Here is the latest in a series of examinations into urban legends about baseball and whether they are true or false. Click here to view an archive of the baseball urban legends featured so far.
BASEBALL URBAN LEGEND: The New York Post had an editorial up the day after the Yankees defeated the Red Sox in Game 7 of the 2003 ALCS bemoaning a Yankee loss.
When it comes to jumping the gun a bit, the New York Post's mistake on October 17, 2003, was not nearly as bad as the infamous Chicago Tribune headline wrongly naming Thomas Dewey as the thirty-fourth President of the United States.
Still, mere hours after Aaron Boone's dramatic 11th inning walk-off home run sent the New York Yankees to the World Series by defeating the Red Sox four games to three…
the New York Post had the following editorial in some editions of their paper (thanks to the Smoking Gun for the image)…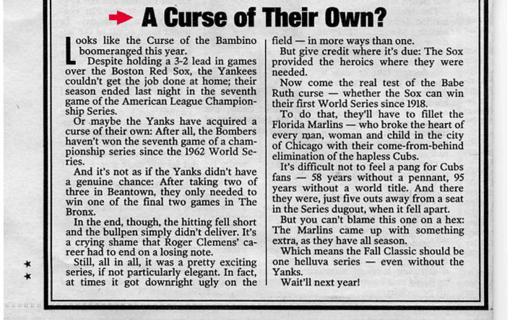 The Editor-in-Chief of the New York Post, Col Allan blamed the blunder on a simple production error.
"We had prepared two editorials, one in the event of the Yankees winning, one with the Yankees losing," he said. "When we transmitted the pages to our printing facility, the wrong button was struck and the wrong editorial sent."
Pretty darn funny mistake!
STATUS: True.
Feel free (heck, I implore you!) to write in with your suggestions for future installments! My e-mail address is bcronin@legendsrevealed.com