SPORTS LEGEND: Bronko Nagurski was discovered when a college football coach found him doing some mighty acts of strength while plowing a farm by the road.
Bronislau "Bronko" Nagurski was born in Ottawa, Canada but moved to Minnesota with his family when he was a young boy. It is fairly well established that he was, indeed, "discovered" by University of Minnesota Head Coach Clarence "Fats" Spears, who got the young man to come play for University of Minnesota as a tackle and fullback, becoming one of the greatest college football players in history.
He later went on to become one of the greatest players in National Football League history, too, playing from 1930-1937 (plus one game in 1943) for the Chicago Bears. He is the only player ever to be named to the All-Pro team playing at three separate (non-kicking) positions, as he played fullback on offense and defensive lineman on defense, plus occasionally offensive tackle on offense, as well.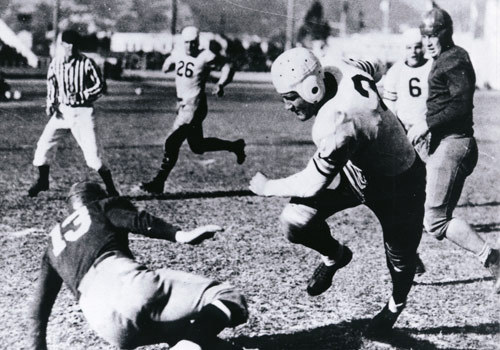 During the offseasons, he also was a star professional wrestler (he won three national titles as a wrestler).
The giant Nagurksi (he was about six two and over two hundred and thirty pounds, which is very big now but was absolutely a behemoth back then) is one of the most dominant athletes of his generation.
But while I will concede that Coach Fat Spears DID "discover" Nagurski, here is how the story of his discovery was laid out over the years (this particular version comes from the New York Times obituary for Nagurski, who died in 1990 at the age of 81):
He was supposedly recruited to play at Minnesota after the football coach, Clarence (Doc) Spears, saw him plowing in a field – without a horse. When asked directions, Mr. Nagurski, the story goes, pointed out the correct path while holding the plow in his hand.
The Times rightfully points this out as a story, because that's all it is. That particular story has been told for DECADES before Nagurski came around, varying from country to country (in some countries, rather than sports, it is about a man enlisted in the military after he lifts the plow to point).
This is not even to say that Nagurski could NOT lift a plow – maybe he could (okay, he almost certainly couldn't), but there's just no way that Nagurski's recruitment just "happened" to match exactly stories like that from decades past.
So…
STATUS: False
Feel free (heck, I implore you!) to write in with your suggestions for future installments! My e-mail address is bcronin@legendsrevealed.com