Here is the latest in a series of examinations into urban legends about baseball and whether they are true or false. Click here to view an archive of the baseball urban legends featured so far.
BASEBALL URBAN LEGEND:Tris Speaker predicted that the New York Yankees were making a mistake by turning Babe Ruth into a full-time outfielder instead of a pitcher.
"Ruth made a great mistake when he gave up pitching. Working once a week he might have lasted a long time and become a great star." – Tris Speaker (1921)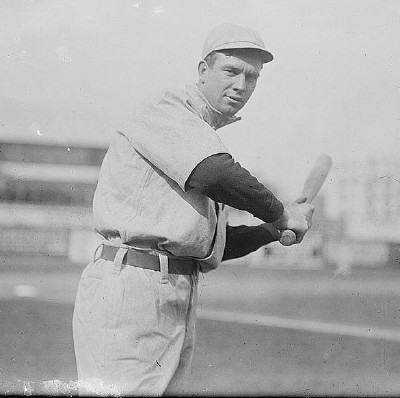 So many famous quotes over the years have turned out to be bogus that I was quite wary of the preceding quote being true, and yet, it is, Speaker said it in 1921 when the future Hall of Famer was the Player/Manager of the Cleveland Indians.
HOWEVER (there's always a however, isn't there?), I take issue with the way that the phrase has been treated over the years.

First of all, Speaker was not a fan of Ruth's. The two had been teammates for a number of years in Boston where Speaker's best friend on the team, Smoky Joe Wood, disliked Ruth immensely.
By osmosis, Speaker was also cold to the Babe, who, on the contrary, was always effusive with his praise of Speaker whenever asked about hiim.
In any event, the quote, while remarkable, was relayed by Speaker in 1921.
Ruth was already on the Yankees for a full season by 1921. Even if we allow that Speaker perhaps gave the quote BEFORE the beginning of the 1921 season, Ruth still had the 1920 full season's statistics.
And in 1920, Babe Ruth hit .376 (fourth in the league – Speaker was second) with 54 home runs and 137 runs batted in.
To put those home runs into perspective, Ruth's 54 home runs were four more than the next three home run leaders in the American League COMBINED (George Sisler's 19, Tilly Walker's 17 and Happy Felsch's 14).
Speaker's quote has long been associated with missed PREDICTIONS, but as you can see, Speaker already saw what Ruth could do with the bat. He knew Ruth was a dominant force as a hitter, he just thought that he was an even better pitcher. And Ruth WAS 89-46 with a 2.19 Earned Run Average for the Boston Red Sox, all before he was 25 years old, so it's not insane to think at the time that he could have been more valuable as a pitcher (totally wrong, but not insane).
In either event, if you examine his statement further, Speaker says Ruth could have become a great star.
Obviously, there wasn't a bigger star in the galaxy than Ruth after 1920 (and he would become even bigger as time went on), so Speaker's comments were both incorrect and also false on the face of them.
So really, instead of looking at them as an actual prediction meant to be taken seriously (and then mocked years later as a foolish serious prediction), we should instead view them as how they were likely intended – as dismissive comments from a guy who didn't like the Babe.
Still, did he say the words? Yes, so…
STATUS: True
Feel free (heck, I implore you!) to write in with your suggestions for future installments! My e-mail address is bcronin@legendsrevealed.com