Here is the latest in a series of examinations into urban legends about hockey and whether they are true or false. Click here to view an archive of the hockey urban legends featured so far.
HOCKEY URBAN LEGEND: The Detroit Red Wings used to lend their trainer to other teams if they needed a goalie for a game.
Teams in sports used to have an entirely different idea of what was sporting and what was not, and just like how baseball teams once allowed their opponents "courtesy runners" when players were injured, Hockey used to have a similar practice.
Ross "Lefty" Wilson was a pretty good goaltender when he was in his teens during the late 1930s, and he bummed around various hockey leagues before taking some time off from the sport in the early 1940s. He returned to hockey in the mid-40s, but soon took up what became his life's career, working as an assistant trainer for the Detroit Red Wings.
Here he is early in his tenure with the club (he's the first man in the picture, all the way to the left)…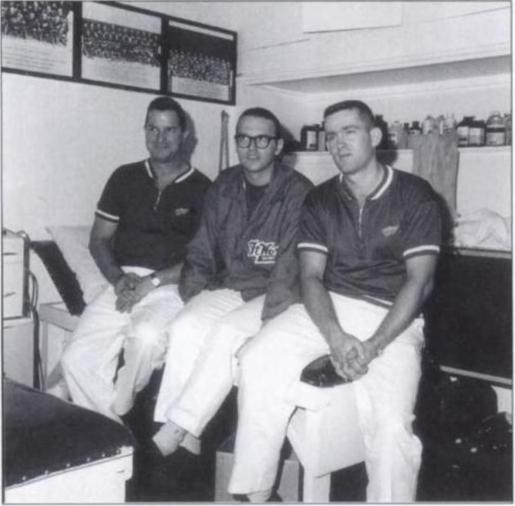 He stayed with the team for the rest of his career, working as their head trainer from 1950 to 1982!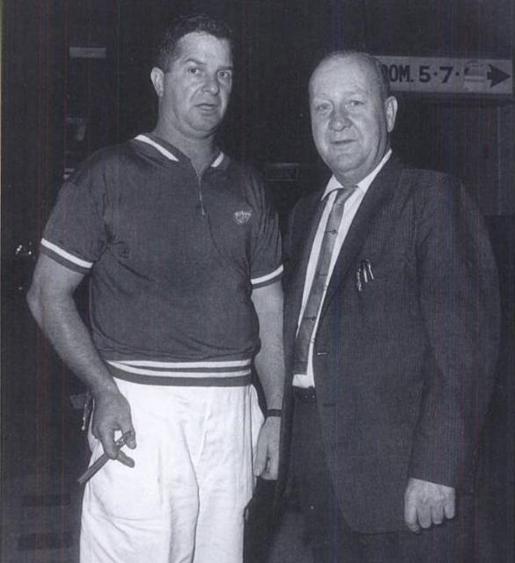 He won the Stanley Cup with the Red Wings in 1950, 1952, 1954 and 1955 (his name's on the Cup).
Back in the 1950s, hockey teams didn't carry back-up goalies. Usually, they would have an amateur goalie ready to go in if need be. Well, that's just what happened in 1953, when Wilson made his NHL debut filling in for the Red Wings' Hall of Fame goalie, Terry Sawchuk, in the final minutes of a Detroit loss.
1956 saw an even stranger use of Wilson, though!
In 1956, when the Toronto Maple Leafs' Hall of Fame goalie Harry Lumley was injured at the end of a Toronto/Detroit game, the Red Wings actually loaned Toronto the use of Wilson!!! The Red Wings were up 4-1 at the time and there were only 13 minutes left, and that's how the game ended.
Amazingly enough, though, Wilson got into a THIRD NHL game the next year, as the Boston Bruins' goalie Don Simmons was injured in a game against the Red Wings. This time, though, the injury happened early in the game, and Wilson had to play over 50 minutes of the game, which ended in a 2-2 tie!!! Yep, the Red Wings' own trainer tied them in a game!! As he said years later, he didn't want to hear the players teasing him when he went to sew them up the next day!
Isn't that a nice story of good sportsmanship?
Lefty Wilson passed away in 2002 a Red Wings legend.
The legend is…
STATUS: True
Feel free (heck, I implore you!) to write in with your suggestions for future urban legends columns! My e-mail address is bcronin@legendsrevealed.com