Here is the latest in a series of examinations into urban legends about baseball and whether they are true or false. Click here to view an archive of the baseball urban legends featured so far.
BASEBALL URBAN LEGEND: Danny Goodwin was drafted with the first overall pick in the Major League Baseball draft…TWICE!!
The Major League Amateur Draft is one of the biggest rolls of the dice when it comes to actually finding great talent.
Unlike the other major American sports, #1 draft picks do not nearly have the same rate of success in baseball, partially because players are rarely drafted "good to go" – you're mostly drafting on POTENTIAL. And obviously, that potential is often never realized.
The Amateur Draft was instituted in 1965. Not until 1987, over TWENTY YEARS into the draft, was a future Hall of Famer drafted #1 overall (Ken Griffey, Jr.). Now, the results have improved a bit since then, with one other future Hall of Famer drafted #1 since Griffey (Chipper Jones) and a few other players who at least look like they have a chance (Alex Rodriguez and Joe Mauer, plus who knows with David Price or Stephen Strasburg).
A problem with the draft is that if you choose to go for a high school player, the player has a great deal of leverage with the team. He can simply say he will go to college (where he undoubtedly has a scholarship waiting for him) and the team will lose his rights. So this has lead to situations where teams with not a lot of money will actually shy away from drafting top-rated high school prospects, figuring that they will cost too much to sign, choosing to go for college graduates, who have a lot less leeway (as few college graduates will take the chance to take a year off from professional baseball, although there have been some notable exceptions).
Never has this been more evident than with the case of Danny Goodwin.

Danny Goodwin was an outstanding catching prospect as Peoria High School in the late 60s/early 1970s. When he graduated high school in 1971, he was chosen #1 overall by the Chicago White Sox, who knew a lot about Goodwin, as he was a bit of a local legend at the time (Peoria and Chicago both being in Illinois). Goodwin once hit a 400 foot home run in a high school game! 400 feet!!! For a high school batter!! Back when they used wood bats!!!
The White Sox offered him $60,000. Goodwin already had a scholarship offer from Southern University, and he felt that that outstripped the White Sox offer, so he went to school instead (Goodwin was a good student).
Four years later, now a college graduate, Goodwin was STILL a top-rated prospect, so once again, he was drafted first in the draft – this time by the California Angels, becoming the first and only player ever to be drafted first overall TWICE!
The Angels signed him for $125,000.
Sadly (well, "sadly" is a bit of a stretch), Goodwin hurt his shoulder soon into his professional career, keeping him from being able to catch. Since he could not really play any other position well (they tried him at first base), he ended up being a very young Designated Hitter.
Players who are DHs at a young age typically don't have a long shelf life, and Goodwin was out of baseball by 1982 (after playing for a number of teams, including the Twins, who also tried to see if he could play first base)…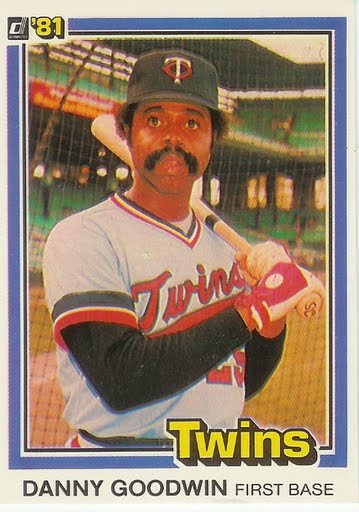 However, in his case, his choice of getting educated seems to have paid off, as he has become a successful baseball executive in the years since, becoming a public relations coordinator for the Atlanta Braves. Over the years, he has risen in the ranks to the point where he is currently in charge of the Braves' foundation, a public service organization designed to help under-privileged children.
Good for you, Mr. Goodwin!
The legend is…
STATUS: True
Feel free (heck, I implore you!) to write in with your suggestions for future urban legends columns! My e-mail address is bcronin@legendsrevealed.com