Here is the latest in a series of examinations into urban legends about hockey and whether they are true or false. Click here to view an archive of the hockey urban legends featured so far.
HOCKEY URBAN LEGEND: Six weeks after having Last Rites performed for him, a hockey player was playing in the Stanley Cup Finals!
Born in Montreal in 1931, Bernie "Boom Boom" Geoffrion was able to live his dream and not only play for the Montreal Canadiens, but play with them on SIX Stanley Cup winning teams, including a remarkable five in a row from 1956-1960, the only NHL team to ever achieve such a feat!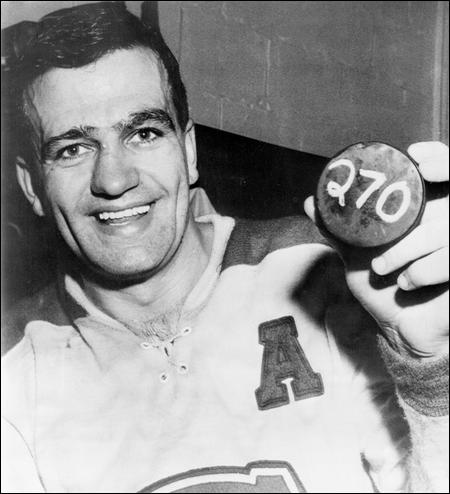 If there was any sadness in Geoffrion's playing career it was that he was often overshadowed by his famous teammates, especially fellow scorer Maurice "Rocket" Richard. Geoffrion was the second NHL player ever to score 50 goals! Richard, though, was the first. Geoffrion was actually BOOED by Canadien fans a year that Geoffrion passed Richard for the scoring lead late in the season (while Richard was serving a one-game suspension)! Ultimately, Geoffrion actually retired from the Canadiens while still in playing condition. He never admitted as much, but it most likely had to be the fact that the Captainship upon Richard's retirement and Doug Harvey being traded went not to Geoffrion, but fellow star Jean Béliveau, who was not even an Alternate Captain at the time (these guys, of course, are all amazing players – Richard, Harvey, Béliveau and Geoffrion are ALL Hall of Famers). Geoffrion returned to the NHL a couple of years later and played two years for the New York Rangers.
In any event, while his teammates might have taken the spotlight from him at times, there were times that Geoffrion couldn't help but stand out.

One such occasion happened late in the 1958 season when he was in a horrific accident during team practice when he collided with his teammates. He actually did not have a pulse for 15 seconds! Team trainers turned him upside down, hoping for blood to rush to his brain, which it did and they got a pulse.
They rushed him to the hospital where he had emergency survey to fix a ruptured bowel (Geoffrion would forever be plagued by stomach issues, eventually dying of stomach cancer). While in the hospital, a Catholic priest gave Geoffrion Last Rites.
Luckily, Geoffrion pulled through, but doctors insisted that he rest until the next season. They couldn't stop Geoffrion, though, and within six weeks, he returned – just in time for the 1958 Stanley Cup Playoffs, where he helped the Canadiens to their third Stanley Cup victory in a row, with 6 goals and 5 assists in 10 games.
Three years later, Geoffrion would once again pull off a strange recovery when he was recovering from a broken leg. He had a teammate cut off the cast and he went to play in the playoffs, even scoring 2 goals (although the Canadiens were eliminated, ending their streak of Cup victories at a record five).
Elected to the Hall of Fame in 1972, Geoffrion's number 5 was finally retired in 2005 (in a nice little touch, they lowered the retired jersey of his father-in-law, famed Canadien Howie Morenz, so that the jerseys could then be raised to the rafters together).
Sadly, three days before the retirement ceremony, Geoffrion had surgery to excise cancer from his stomach. But when the surgeons went in, they discovered that the cancer had spread and Geoffrion did not have much time left to live. He died on March 11, 2005, the same day his number was retired – a Canadien legend.
The legend is…
STATUS: True
Feel free (heck, I implore you!) to write in with your suggestions for future urban legends columns! My e-mail address is bcronin@legendsrevealed.com