Here is the latest in a series of examinations into urban legends about basketball and whether they are true or false. Click here to view an archive of the basketball urban legends featured so far.
BASKETBALL URBAN LEGEND: Red Holzman got his start in professional basketball due to the fact that he was Jewish.
William "Red" Holzman was one of the most successful coaches in the history of the National Basketball Association (NBA). He coached the New York Knickerbockers to their only two NBA championships in 1970 and 1973. He was the head coach of the Knicks from 1967-1982 (with a short break in the late 1970s when Willis Reed took over as coach) and retired with 613 victories. That was the same number the Knicks used when they retired his number in 1990 (as coaches don't have numbers). The Knicks retiring his number came five years after he was elected to the Basketball Hall of Fame. Even to this day, over ten years since Holzman passed away in 1998, his legacy impacts the NBA with his former pupil, Los Angeles Lakers head coach Phil Jackson, continuing Holzman's tradition of winning. Days before setting the new record for most titles won by an NBA coach, Jackson spoke of Holzman to the New York Daily News, "He is the reason why I am a coach."
While Holzman is a legend in the NBA, he actually got his start in professional basketball in the National Basketball League (NBL), one of two precursors to the NBA (the other being the Basketball Association of America (BAA)) that merged together to form the NBA in 1949. And what's amazing is that he got his start in the NBL due to one simple fact – he was Jewish!

Red Holzman was born in Brooklyn, New York in 1920, the son of two Jewish immigrants from Romania and Russia, respectively. He attended Franklin K. Lane High School during the 1930s where he played both handball and basketball. During his high school years, like other basketball standouts of the time, he was given a job working as a waiter at a resort in upstate New York. It was at this time that he met Andrew "Fuzzy" Levane, a fellow high school basketball standout. The two would become friends for the rest of their lives. Holzman attended the University of Baltimore and the City College of New York. He graduated from CCNY in 1942 as a two-time All-American in basketball. At this time he also got married.
Upon graduation, with World War II raging on, Holzman enlisted in the United State Navy. He was stationed in Virginia as part of the Navy's morale division. After his military career ended in 1945, Holzman was looking for a career – he was surprised to learn what that career would be!
One of the results of all the enlisted men returning to home life after World War II was that professional sports leagues could really begin to flourish, as the amount of quality players was now much higher. In fact, things seemed to look so bright that one Rochester businessman decided to take his "somewhat" professional basketball team into the big leagues. Lester Harrison had been a player, coach and organizer in the world of semi-professional basketball throughout the 1930s. His teams were sponsored by liquor companies, most notably Seagrams and then later the Eber Brothers (the teams were called the Rochester Seagrams and the Rochester Ebers). Harrison began getting a lot of pressure from the newspapers in Rochester to disassociate himself and his team from the liquor companies, so Harrison and his brother decided to form their own semi-pro team called the Rochester Pros (an informal name) in 1944-45. With World War II over, though, Harrison decided to join the NBL with his team being called the Rochester Royals. Harrison already had a number of strong players on the team, including Basketball Hall of Famer Al Cervi, who had played for Harrison since the Rochester Seagrams days and was now ready to come to the NBL with him. Football Hall of Famer Otto Graham was also a member of the first NBL season for the Rochester Royals (as you would imagine, the great quarterback Graham was also a good point guard).
While putting his squad together, though, Harrison would scroll the list of players about to be discharged from the military and sign them. He signed John Mahnken and Al Nagretti as soon as their service ended. Similarly, Harrison signed Fuzzy Levane right out of the service. Here's where things get a bit interesting. While Levane was a fine player, that was not necessarily the reason Harrison signed him. You see, Harrison felt that the Italian-American Levane was Jewish. Rochester had a large Jewish population at the time and Harrison was following a practice that had been made popular by the barnstorming Original Celtics during the 1930s, which was to so-call "mix ethnicities," so that different fans of the area would have reasons to support the local team. "Hey, look, they have an Irish guy! I'm going to root for him!" "Oh yeah, well, I'm rooting for the Italian guy!" Stuff like that. In fact, Harrison would break ground by taking that approach to the next level in 1947 by signing an African-American player, Dolly King, for a season!
In any event, when Harrison discovered that Levane was not, in fact, Jewish, he asked Levane if he knew of any Jewish players worth signing. Levane recommended his friend Red Holzman, and Harrison signed him sight unseen. I believe Holzman signed with the team literally the day after he was discharged (and very soon before the NBL season was to start in late November 1945).
Neither Levane nor Holzman got much playing time at first, as they had not had much practice time with the team. However, by the end of November, Holzman had a stand-out game, scoring 15 points (matching Cervi and Rochester's center, George Glamack). Looking back, Holzman would recall that being the game where he changed from being effectively a Jewish mascot into being an actual member of the team. Holzman ultimately began starting for the team, eventually winning the NBL Rookie of the Year as the Royals would go on to win the NBL Championship.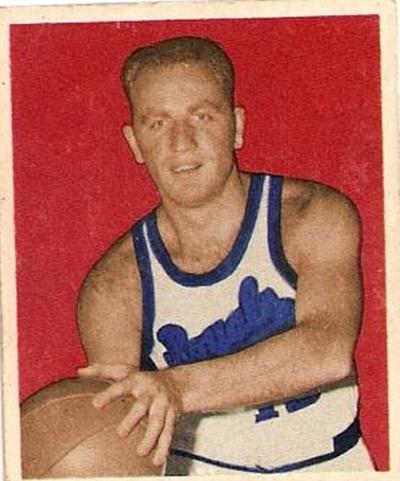 I would say that the rest is history, but Holzman would actually need the help of Levane a couple more times in his career. Holzman was about to retire in 1953 when Levane, now the coach of the Milwaukee Hawks, convinced him to be his assistant coach. When Levane was fired, Holzman got his first head coaching experience. After Holzman, too, was fired a few years later, he was going to start selling insurance when Levane convinced him to come to New York (where Levane was now the head coach) to become a scout for the Knicks. Ten years later, Holzman was the coach of the Knicks and then the rest is history!
If you're curious about further details about the relationship between Levane and Holzman, I did a piece at Knickerblogger.net on how Levane kept helping Holzman out. You can read it here.
The legend is…
STATUS: Basically True ("Basically" because Holzman WAS a good basketball player, so it's not like he was just pulled off the street because he was Jewish. But "True" because he was signed specifically because he was Jewish and not because of his basketball skills).
Thanks to Murry R. Nelson's great book about the NBL, The National Basketball League: a history, 1935-1949 for much of the information for this piece! And thanks to Mitch Lawrence of the New York Daily News for the Jackson quote!
Feel free (heck, I implore you!) to write in with your suggestions for future urban legends columns! My e-mail address is bcronin@legendsrevealed.com