My new book, Why Does Batman Carry Shark Repellent? (the answer, of course, is so he can repel sharks…and other dangerous sea creatures) is out today!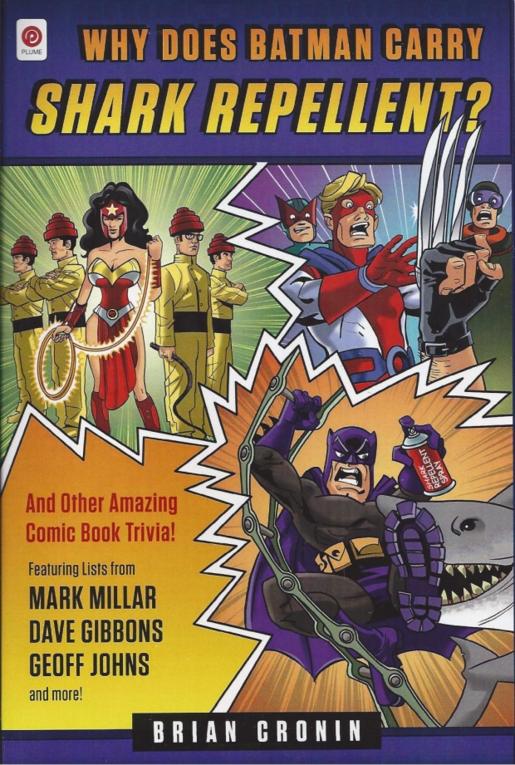 The book contains a series of lists about comic books. Some examples include the three topics depicted on the cover (which was drawn by Kevin Hopgood, the fellow who designed War Machine's armor)…
Seven Bands That Got Their Names from Comic Books
Six Fellow Superheroes That Wolverine Has Stabbed at One Point or Another
Ten Crazy Items Found in Batman's Utility Belt
Essentially, it is all the sort of stuff you expect from my comic book writing! Roughly 75% of it is brand-new material!
In addition, there are twenty-two guest lists by a whole bunch of great comic creators. Some examples include the three creators mentioned on the cover….
Mark Millar's "Five 'WTF?' Moments in Comic Book History?"
Dave Gibbons' "Six Great Silver Age Covers"
Geoff Johns' "Nine Iconic Green Lantern Covers"
The other creators who contributed lists are (in alphabetical order): Jason Aaron, Scott Allie, Paige Braddock, Peter David, J.M. DeMatteis, Mike Deodato, Jay Faerber, Kieron Gillen, Gabriel Hardman, Frazer Irving, Jeff Lemire, Greg Pak, Jimmy Palmiotti, John Rozum, Marc Sumerak, Eric Trautmann, Fred Van Lente, Mark Waid, Zeb Wells and Skottie Young.
Order a copy today at Amazon
, Barnes and Noble, Books-A-Million, Powell's Books and many more fine online bookstores (or buy it in whichever brick and mortar store you enjoy)!
If you buy it from Amazon
, I get a cut, but really, buy it from wherever you'd like! A sale is a sale!
The important thing is buying it. 😉