Here is the latest in a series of examinations into urban legends about toys and whether they are true or false. Click here for an archive of all toy urban legends featured so far!
TOY URBAN LEGEND: Mr. Potato Head quite nearly was "doomed" to simply being a cereal giveaway.
In 1949, a toy developer named George Lerner came up with an idea that would go on to become one of the most popular toys of all-time. But in 1949, Lerner's idea for a "funny face" kit where children could dress up potatoes or other vegetables with eyes, ears, a mouth, hats, etc. was not a particularly popular one.
Lerner was turned down by every toy company out there, even a company that Lerner had worked for during the war! The prevailing theory is that in the post-World War II environment, rationing was still fresh in everyone's minds, so "wasting" vegetables and potatoes like that was almost blasphemous.
What happened next nearly de-railed one of the most popular toys of the 20th Century…
Ultimately, Lerner determined that he could not sell the idea as a toy, so he settled for selling the idea to a food company, who were going to include the parts as giveaways in their cereal (you know, "In each box of Wheat-Os, you get eyes, ears and a hat (or whatever)! Collect all fifty parts!").
Lerner was paid $5,000 for the rights to the idea (a tidy sum for 1950/51).
He did not stop shopping the idea, though (as until the cereal company began using it, he was hoping to still get someone who wanted the idea for a toy), and in 1951, he convinced two brothers that the idea was a winner.
Henry and Merrill Hassenfeld ran their family's Rhode Island textile factory. By the 1950s, they had evolved to begin producing pencil boxes. They noticed that when they put stuff into the boxes and sold them furnished, the boxes sold better. They soon decided to sell OTHER items in the boxes, like kits for children. You know, like a "Nurse Kit," where the box would have dress-up stuff for a kid to play nurse.
Well, when Lerner approached them about using his "funny face" idea in one of their kits, they really liked the idea.
They liked it so much that they bought the idea back from the cereal company for $5,000, plus an additional $2,000 for the cereal company's troubles.
They then paid Lerner $500 plus a 5% royalty for each kit sold.
Finally, they needed a name for the "funny face" kit. They figured potatoes would be the most popular food item to be used with the kit, so they came up with Mr. Potato Head.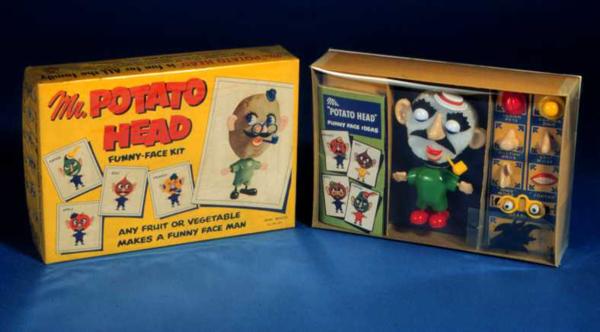 Within a year's time, a million kits had sold!
Oh, by the way, the brothers, Henry and Merrill Hassenfeld? You might know them better as the Hassenfield Brothers. Or better yet, Hasbro.
The legend is…
STATUS: True
Thanks to Dennis Martin and his awesome Mr. Potato Head site (click here to visit) for the information!
Feel free (heck, I implore you!) to write in with your suggestions for future urban legends columns! My e-mail address is bcronin@legendsrevealed.com