Here is the latest in a series of examinations into urban legends about TV and whether they are true or false. Click here to view an archive of the TV urban legends featured so far.
TV URBAN LEGEND: Officers Renko and Hill were intended to be killed off at the end of the first episode of Hill Street Blues
Hill Street Blues debuted as a mid-season replacement in the middle of the 1980-81 TV season (January, to be precise). It is about the police department in a gritty town, most likely somewhere in the Midwest or the Northeast.
Each episode (more or less) is a "day in the life" type episode, following around the various officers, detectives, sergeants and captains of the police precinct on Hill Street.
An acclaimed drama, its great critical success (it won six Emmys its first season) and the burgeoning study of "demographics" (Hill Street Blues was watched mostly by more affluent viewers, allowing the show to sell more high end products in its commercials) allowed the show to be renewed for a second season despite terrible ratings (I believe at the time it was the lowest-rated show ever to be renewed for a second season). Eventually its ratings improved (and the critical acclaim remained) and the show ran for seven seasons, six of which were part of amazing 10 O'Clock hour on NBC's Thursdays, a time slot that had literally three dramas air there regularly over the span of more than twenty-eight years (Hill Street Blues for six, L.A. Law for eight then E.R. for fifteen).
One of the most shocking parts of the first episode of Hill Street Blues is the tragic shooting of partners, Officer Bobby Hill and Officer Andy Renko, played by actors Michael Warren and Charles Haid, respectively.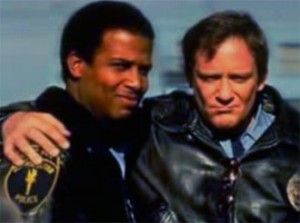 At the the time of the shooting, it sure looked like both characters had been killed, but later in the episode, they both show up, showing the after-effects of the shooting (they're both extra tense now that they've been shot – their friendship, also, is not as solid as it once was).
A long-lasting legend has sprung up based on behind-the-scenes talk mixed with the fact that they both looked pretty dead when the shooting happened. The legend is that the shooting was originally INTENDED to be fatal, but test audiences liked Hill and Renko so much that NBC told the producers of Hill Street Blues to bring them back.
Is it true?

That's not true, but it's awfully close to being true.
First off, yes, Renko was originally intended to die. Hill was not. Hill was going to eventually recover from his injuries and rejoin the cast. However, when I say "rejoin the cast," Michael Warren was not originally intended to be the major player on the show that he ended up being. The original idea of Hill Street Blues (and really, this is more or less what it DID become) was to have a great deal of recurring characters playing officers and to have these actors only show up from time to time when the story asked for it. You would have a certain amount of "official" cast members while also a whole bunch of recurring officers who would not be listed in the opening credits. That's where Warren was headed until, yes, test audiences DID basically turn him into a bigger character, as the test audiences loved him. But not just him, specifically the banter between Hill and Renko.
Charles Haid was actually only doing the pilot as a sort of favor for the show's co-creator, Stephen Bochco, as he was already committed to another pilot for NBC. So he was just going to do the show, get killed off and move on. After the network wanted to bring him back, though (and his pilot was not picked up, so he wanted to come back, as well, as you might imagine) they quickly made a deal to bring him in. I don't know for sure, but I presume that's why Haid has a better credit in the opening credits than most of the other actors (Michael Warren included). Again, the crediting bit is just speculation on my part.
The move paid off, as the pair were great on the show its whole run, and Haid and Warren were both nominated for Emmys (Haid twice, even).
The legend is…
STATUS: Mostly False, But at Least Partially True
Feel free (heck, I implore you!) to write in with your suggestions for future urban legends columns! My e-mail address is bcronin@legendsrevealed.com