Here is the latest in a series of examinations into urban legends about movies and whether they are true or false. Click here to view an archive of the movie urban legends featured so far.
MOVIE URBAN LEGEND: Tom Hanks' acceptance speech at the Academy Awards inspired the movie In & Out.
In 1994, Tom Hanks won the Academy Award for Best Actor for his performance in the film, Philadelphia, where Hanks plays a lawyer who was fired from his firm for having AIDS.
As Hanks accepted the award, he mentioned, among others, his high school drama coach Rawley Farnsworth, and his former classmate John Gilkerson, "two of the finest gay Americans, two wonderful men that I had the good fortune to be associated with"
Hanks had asked permission of both men to mention them, but I'm unsure if he specified to Farnsworth that he was going to mention that Farnsworth was gay – I find it extremely difficult to believe that it was a surprise to Farnsworth that Hanks was going to reference his being gay (just like I find it hard to believe that Hanks wouldn't have mentioned to Farnsworth that he was going to mention it).
In any event, the speech DID strike a nerve with producer Scott Rudin (who produced Philadelphia), who thought, "What if the teacher in question was still working?"

He commissioned a screenplay by Paul Rudnick (who also had similar thoughts when he heard Hanks' speech) on the subject, and three years later, the film In & Out was released!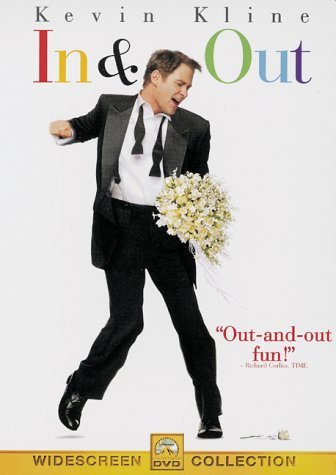 In the film, Kevin Kline plays a high school teacher whose former student (played by Matt Dillon) thanks him in an Academy Award acceptance speech, but also "outs" him.
Kline's character believes himself to be heterosexual (he's engaged to be wed), but soon realizes that he is, in fact, gay, which causes problems with the school where he works.
Then again, he does get to kiss Magnum P.I., so that's some good news!
The legend is…
STATUS: True
Feel free (heck, I implore you!) to write in with your suggestions for future installments! My e-mail address is bcronin@legendsrevealed.com.