Here is the latest in a series of examinations into urban legends about movies and whether they are true or false. Click here to view an archive of the movie urban legends featured so far.
MOVIE URBAN LEGEND: The Trayvon Martin case led to a Sci-Fi comedy film changing its title.
One of the most stressful times in the making of a movie is the time after filming is complete but before the film has been released. During this time, filmmakers can drive themselves crazy with thoughts about how their film will succeed or fail (I did a legend awhile back about how George Lucas freaked out so much about Star Wars after filming was completed that he made a bizarre bet with Steven Spielberg essentially betting that Star Wars would fail (or at least not do as well as Spielberg's next picture). However, it is not just the filmmaker's psyche that is at risk during this period. Things like studio marketing evaluations and audience testing can dramatically alter the way a film is promoted and/or released. The 2012 film Red Dawn had the invading army in the film literally changed from China to North Korea after marketing evaluations decided that the film would lose out of too much revenue from China if they had the villains be Chinese. More recently, the Brad Pitt action film World War Z had extensive re-shoots that saw the last third of the movie essentially entirely re-written. At least those situations, though, are within the control of the studio. The craziest problems are when real life events suddenly give your film meaning that it never meant to have. Most famously, the terrorist attacks on the World Trade Center on September 11, 2001 led to a number of films being delayed and edited because of content related to the attacks (the comedy Big Trouble, about a rogue nuclear bomb secretly smuggled on to an airplane, was delayed seven months and the Gwyneth Paltrow flight attendant comedy View From the Top was delayed well over a year! And that was just because it was a film about airplanes!). Rarely has this type of problem been as unpredictable, tough, then with the story of how the February 2012 fatal shooting of Trayvon Martin in Florida led to a science fiction comedy having to change its name last summer.

The groundwork for the film that would eventually become known as The Watch began in 2008 when Shawn Levy was hired to produce a film based on a studio executive's idea about a neighborhood watch that uncovers an alien invasion of their small town. The film went through one screenplay and a couple of different directors until Evan Goldberg and Seth Rogen took on the project in late 2010. In mid-2011, director Akiva Schaffer was brought in and filming began in the fall of 2011. The film stars Ben Stiller as a man in a small town that forms a neighborhood watch after his friend is murdered. The other members of the "team" are Vince Vaughn, as a man who just wants to hang out with other guys (while also using the watch to keep an eye on his teenage daughter), Jonah Hill as a slightly disturbed young man who failed the police department's psyche evaluation and is looking for a vigilante group to get out his aggression and Richard Ayoade as a mysterious newcomer to town. They slowly discover that Stiller's friend was murdered by aliens and that their small town is ground zero of a possible alien invasion. Comedy, as they say, ensues.
On February 29, 2012, the teaser trailer for the film, which was then titled The Neighborhood Watch, was released as well as teaser posters for the film.
The initial trailer did not make any mention of the science fiction elements of the film, instead spotlighting the comedy of the four men driving around in a mini-van looking tough, with rap music playing along. Jonah Hill's character even pantomimes shooting at people from the car.

The issue, of course, was that just three days before the trailer debuted, an actual Neighborhood Watch member, George Zimmerman, shot and killed a teenager named Trayvon Martin in Sanford, Florida. Zimmerman is currently on trial for second degree murder. In addition, Zimmerman allegedly, just like Hill's character in the film, had tried unsuccessfully to become a police officer in the past.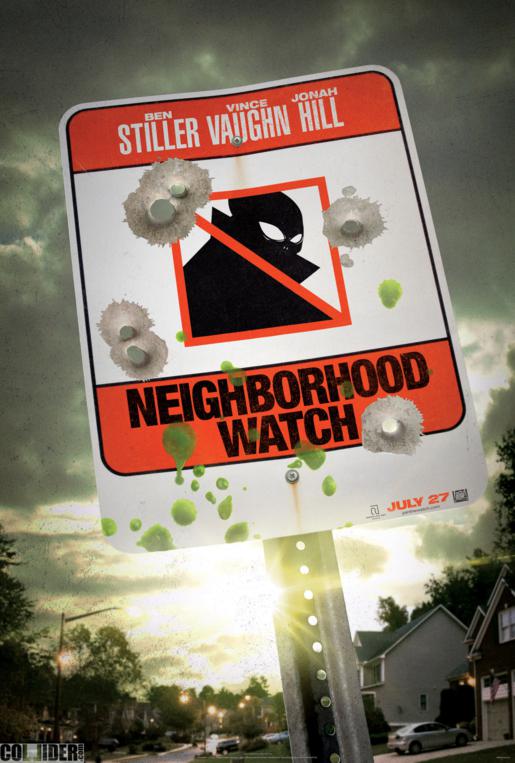 Naturally, 20th Century Fox quickly reacted to the news, first pulling the trailer and teaser posters (including one with a bullet-ridden sign) from Florida theaters and then pushing up the next stage of promotion for the film to highlight the fact that it was a science fiction film. Fox also issued a statement:
We are very sensitive to the Trayvon Martin case, but our film is a broad alien-invasion comedy and bears absolutely no relation to the tragic events in Florida. The movie, which is not scheduled for release for several months, was made and these initial marketing materials were released before this incident ever came to light. The teaser materials were part of an early phase of our marketing and were never planned for long-term use. Above all else, our thoughts go out to the families touched by this terrible event.
Part of their change in marketing happened in May when they officially re-named the film The Watch.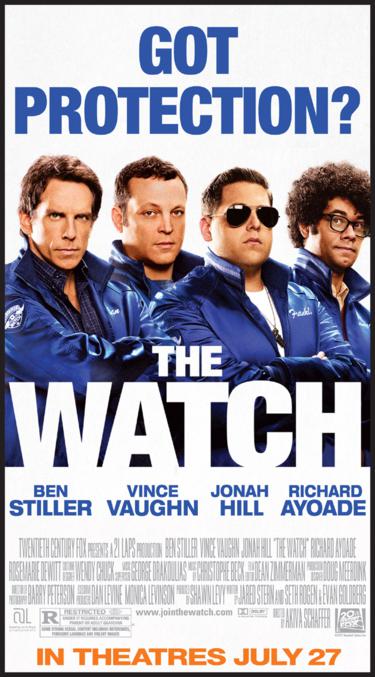 The Watch was released as scheduled in July of 2012 and did not do particularly well, either critically or commercially.
The legend is…
STATUS: True
Feel free (heck, I implore you!) to write in with your suggestions for future installments! My e-mail address is bcronin@legendsrevealed.com.