Here is the latest in a series of examinations into urban legends about TV and whether they are true or false. Click here to view an archive of the TV urban legends featured so far.
TV URBAN LEGEND: X-Files and Picket Fences almost had a crossover episode until the network squashed it at the last minute.
In 1994, X-Files and Picket Fences decided to have a crossover episode.
Picket Fences was a critically acclaimed drama on CBS at 10:00 pm on Friday nights, which was created by David E. Kelley.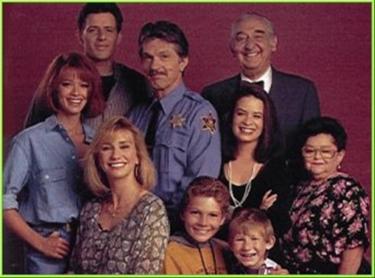 The show was set in a quirky town in Wisconsin.
Well, the X-Files (created by Chris Carter), which aired at 9pm on Friday nights on FOX, was about a pair of FBI agents who investigate the paranormal, and since they are often traveling to random parts of the country, it made sense for Agents Mulder and Scully to head to Wisconsin.
So the two TV series, who both shared a production company (20th Century Fox Television), decided to have a crossover.
At 9pm, Mulder and Scully would come to a small town in Wisconsin investigating some paranormal stuff involving cows, and at 10pm, the story would continue across the dial on Picket Fences, where I believe Agent Mulder would make an appearance in the town (I can't say for sure because of what happened before the episode was actually made) of Rome, Wisconsin, which is where Picket Fences was set.
However, before the episodes were ready to go, CBS found out and they were displeased. Their basic reaction was, "We're having enough problems on Friday night, ratings-wise, and now you want to promote another network? No way!"
So they canceled the whole thing. Chris Carter wiped his episode clean of any references to Rome or any of the characters from Picket Fences.
Instead, we just got a normal episode of the X-Files (still set in Wisconsin in the town of Delta Glen), although one that Mulder/Scully "shippers" liked because of a cute scene where Mulder wipes some barbecue sauce off of Scully's lips after they eat ribs.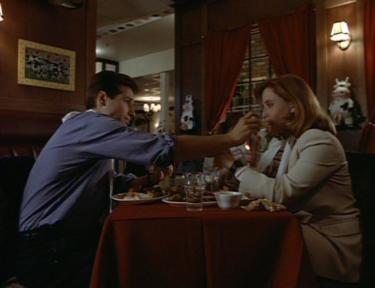 CBS even had the Picket Fences episode, "Away in a Manger," written by David E. Kelley, pushed BACK a week, just to make sure there were no connection between the two episodes.
Amusingly enough, though, Kelley snuck a few references in, mentioning the FBI agents investigating in Delta Glen, for instance.
So I still say it sort of counts as a crossover!
Still, boo on CBS for spoiling what would have been a fun crossover between two fine programs!
The legend is…
STATUS: True
Feel free (heck, I implore you!) to write in with your suggestions for future installments! My e-mail address is bcronin@legendsrevealed.com.