My pal Rich Handley has co-written a new book about Back to the Future. I figure it'll be appealing to you Legends fans out there!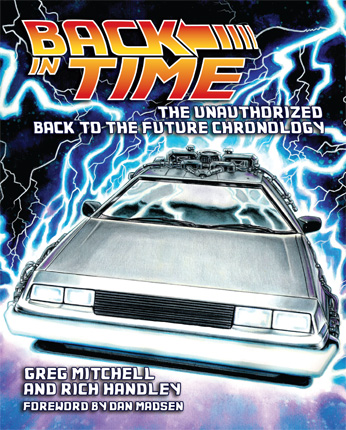 Here's a description of the book:
Great Scott, the space-time continuum can be a tricky place to navigate! But fear not, time-travelers, for your troubles are over. The next time you hop into your DeLorean, bring along Back in Time: The Back to the Future Chronology to guide you through every galaxy-shattering paradox.

Back in Time explores the complex timelines of Back to the Future, as presented in the films, cartoons, novels, comics, video games, card game and even McDonalds Happy Meal boxes. Bring some spare plutonium or a few empty cans for the Mr. Fusion, and prepare to blast to the past, as The Back to the Future Chronology brings you:

*A detailed history of the Back to the Future mythos, from the dinosaur age to a staggering three quadrillion years into Earth's future
*A stunning painted cover and more than 40 breathtaking interior sketches from artist Pat Carbajal, produced exclusively for this volume
*An insightful foreword by Dan Madsen, founder and publisher of the original Back to the Future Fan Club
*A nostalgic essay examining Hill Valley's prominent families and significant events, from the town's Old West frontier beginnings to a future world of barbarians, dragons and sorcerers
*A comprehensive map offering a comparative view of the businesses and shops of Hill Valley's Courthouse Square, in numerous eras across divergent timelines
*Detailed family trees listing all known members of the McFly, Brown, Tannen, Baines, Parker, Strickland and Clayton bloodlines
*A mini-timeline presenting all known jumps through space-time in a coherent, chronological context, broken down by mode of temporal travel
*An examination of the main characters' brushes with fame, as Doc and Marty reshaped history and encountered historical figures, their own idols—and even a few characters from other franchises

Designed for both casual fans and those who know the names of Jennifer Parker's three grandfathers, The Back to the Future Chronology is your guide to Hill Valley history.
Click here for more info.