Here is the latest in a series of examinations into urban legends about movies and whether they are true or false. Click here to view an archive of the movie urban legends featured so far.
MOVIE URBAN LEGEND: 20th Century Fox tried to hide the fact that Miracle on 34th Street was a Christmas film when the film was first released.
Christmas films have an odd place in popular culture. The math on Christmas songs is a lot more straightforward. A Christmas album is relatively easy to produce (most of the songs are already written) and if it is popular it will sell a lot in the short term but also will do well for the artist in the long term since so many radio stations spend all of December playing Christmas music. So for a recording artist, it makes a lot of sense to eventually do a Christmas album. Producing a film, though, is a lot more expensive and studios are much more interested in short term results. It does not do a studio head much good if a film becomes a holiday classic eventually if the film does not excel at the box office right away. There is definitely a Christmas niche where a modestly funded film can make good money for a studio (1983's A Christmas Story cost $4 million and took in $16 million, this year's Best Man Holiday cost $17 million and has already taken in $67 million), but films rarely break out of that niche to become blockbusters (The Santa Clause, Holiday Inn and White Christmas are some notable exceptions). So if you are a studio executive and you have a really good film that happens to have a Christmas theme, you might be tempted to try to downplay the Christmas theme to have it break out of the Christmas niche. However, when the entire film is about Santa Claus, it would appear to be a difficult feat to do so. And yet that's exactly what 20th Century Fox's Daryl Zanuck did with the release of the Christmas classic Miracle on 34th Street. Read on to see how Zanuck tried to hide the nature of the film upon its release in 1947!

Miracle on 34th Street began with a story idea by veteran screenwriter and playwright Valentine Davies during a stint with the Coast Guard during World War II. He felt that Christmas was getting too commercialized and he came up with the basic plot of the film (Kris Kringle leaving an old age home to take over as the Santa Claus in the Macy's Thanksgiving Day Parade and then becoming the department store Santa and befriending a woman employee and her daughter and a lawyer, who has to then defend Kris's sanity at a court hearing) and sent the idea to director George Seaton. Seaton loved it and tried to get it made at 20th Century Fox. Studio head Daryl Zanuck was not a big fan of the initial idea, feeling it to be a bit on the corny side of things, but Seaton pressed and eventually Zanuck agreed to fund the film, provided it was done relatively cheaply and if Seaton would agree to direct a few future features of Zanuck's choosing. Once Zanuck saw the first draft of the script (Seaton wrote the screenplay), though, he was a lot more enthused and became more involved in the project, including coming up with the idea of casting Maureen O'Hara as the female lead to go along with the male lead, John Payne (Payne and O'Hara had acted together in the very successful 1942 film To the Shores of Tripoli as well as 1946's Sentimental Journey) and also coming up with some ideas on how to soften O'Hara's character in the film.
The end result was a film that everyone was very proud of and was initially set for a Fall 1947 release after production finished in February of 1947. Zanuck, though, thought that the film could do well in the most popular time of the year for movie goers, the summer, so he pushed the release date all the way up to May 1947. This was a major problem for Davies, who had turned his story idea into a novel that was set to be released along with the film. He and his publisher had to rush production to get the book out in time for the new release date of the movie.
While that was a problem for Davies, there was a major problem for 20th Century Fox as a whole. How do you promote a Christmas film in May? The answer for Fox was to simply try to hide the fact that it was a Christmas film at all! The film poster for the movie barely show Edmund Gwenn as Kris Kringle with Natalie Wood's character and instead just spotlights O'Hara and Payne.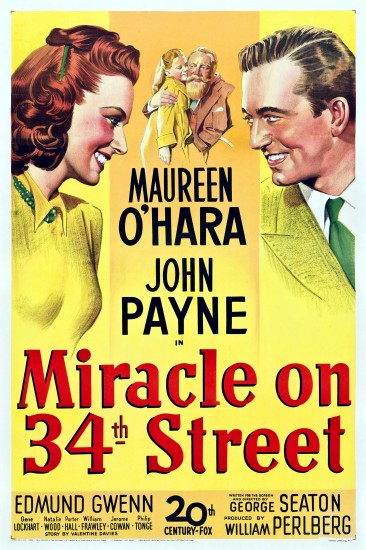 The strangest promotion, though, was the film's trailer. Veteran character actor Charles Tannen plays a studio executive modeled on Daryl Zanuck who has not yet seen Miracle on 34th Street. He wanders the 20th Century Fox lot and encounters notable Fox movie stars like Rex Harrison (fresh off of The Ghost and Mrs. Muir), Anne Baxter (fresh off her Academy Award winning performance in The Razor's Edge), Peggy Ann Garner (soon after her Academy Juvenile Award winning performance in A Tree Grows in Brooklyn) and singing sensation Dick Haymes (soon after a starring turn in Rodgers and Hammerstein's movie musical State Fair) who all rave about the film, all without mentioning the plot of the film, of course. Just that it is a hilarious, romantic, thrilling story perfect for all ages. There is barely a snippet of the actual film shown in the trailer, just a second or two of O'Hara and Payne together from the end of the film.
Here is the trailer, in all of its bizarre glory…
The end result worked, with the film doing well at the box office, bringing in roughly $3 million on a $630,000 budget. Interestingly enough, it was just edged out at the box office by another Christmas film, It's a Wonderful Life (which was technically released in December 1946 so it would be eligible for the Academy Awards, but saw a widespread release in January 1947). It's a Wonderful Life, though, was a much bigger budgeted film (in fact, it did not make back its $3.3 million budget). Miracle on 34th Street also did well at the Academy Awards, winning three awards, including Best Supporting Actor for Gwenn, Best Original Story for Davies and Best Screenplay for Seaton. It's a Wonderful Life, on the other hand, went 0 for 5 in 1946.
The legend is…
STATUS: True
Feel free (heck, I implore you!) to write in with your suggestions for future installments! My e-mail address is bcronin@legendsrevealed.com.