Here is the latest in a series of examinations into urban legends about movies and whether they are true or false. Click here to view an archive of the movie urban legends featured so far.
MUSIC URBAN LEGEND:The Crystals' "He's a Rebel" was not performed by The Crystals
The Crystals formed in the early 1960s with the lineup of Barbara Alston, Patsy Wright, Mary Thomas, Dee Dee Kenniebrew and Myrna Girard.
They eventually signed with Phil Spector's Phillies Records.
They had a top 20 hit in 1961 with "There's No Other (Like My Baby)" and another Top 20 hit the next year with "Uptown."
They had a memorable flop, though, in 1962, with their next single, "He Hit Me (And It Felt Like a Kiss)," which did not even chart because most stations felt that the subject matter was way too unsettling.
The Crystals followed with a major #1 hit later that year (a song that is still popular today), "He's A Rebel"…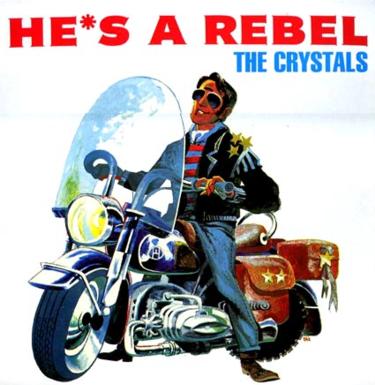 However, amazingly enough, the "Crystals" on the song were not the ACTUAL Crystals!

You see, Gene Pitney had written the song and offered it first to a competing girl band, The Shirelles. They turned it down.
A young singer named Vicki Carr was then given the song, and her version was set to be released soon.
Here's where things get interesting.
Spector later claimed that he just really liked the song and wanted to record it as soon as possible and that he did not know of the other version, but it seems much more likely that he wanted to beat the Carr version of the song to the market. Since Spector was in Los Angeles and The Crystals were touring in New York, he felt he did not have enough time to have them fly out to record the song. So instead he put together a group of singers based in L.A., led by Darlene Love (the group of singers performed as The Blossoms), and recorded the song and released it as being by the Crystals!
Can you imagine how the Crystals must have felt when they discovered that "they" had the #1 song on the charts and it wasn't even sung by them?!?!
The Love-led "Crystals" had another hit single, but then Love and Spector split (there's another good story there, I'll get to it in the future).
Another wrinkle in the story is that while they were touring, they naturally had to sing their biggest hit, right? The problem was that lead singer Alston did not have the big voice that Love did (and she never was a big fan of singing live), so they actually had to hire another girl, La La Brooks, to sing lead on "He's A Rebel."
And when the "real" Crystals returned later in 1963 with two other massive hits, "And Then He Kissed Me" and "Da Doo Run Run," it was now Brooks on lead vocals!
So "He's A Rebel" not only saw the Crystals lose their own name for awhile, but it led to a new lead singer!
The legend is…
STATUS: True
Feel free (heck, I implore you!) to write in with your suggestions for future installments! My e-mail address is bcronin@legendsrevealed.com.