Here is the latest in a series of examinations into urban legends related to architecture and whether they are true or false. Click here to view an archive of the architecture urban legends featured so far.
ARCHITECTURE URBAN LEGEND: After being destroyed, a local retired railway worker restored the famous platform clock at St Pancras Station as a piece of his barn.
St. Pancras Station was a railway station built in London in 1868 as the southern terminus of the Midland Railway's Midland Main Line.
The years were not kind to the station, though, and it had to fight off calls for demolishing the station entirely throughout the 1960s.
By the time the 1970s came along, the station was "safe," but was still in a state of disrepair. To make some money, British Rail decided to sell the platform clock in the station to a collector from the United States for 250,000 pounds. Sadly, while dismantling it, the clock accidentally fell to the ground and was smashed into many pieces.
This is where the story gets really weird.

A railway worker who was there at the time, Roland Hoggard, collected the smashed pieces and took them back on a train to his home in Nottingham. He then spent the next year and a half putting the clock back together! He eventually installed it on to his barn! Here is Hoggard with the clock…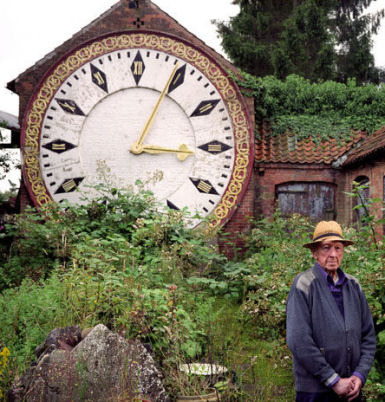 That, in and of itself, is pretty damn cool. However, as the World Architecture News reported at the time (2007 – they were the ones who got the photo of Hoggard), this was even more important than just a cool story about a guy installing a famous clock in his barn (the clock was made by the same people who made Big Ben's clock!!). You see, when St. Pancras was being renovated, they wanted to re-build the platform clock, but they didn't have any schematics for it. So luckily, they just went to Hoggard's house and copied the original clock (specifically the design AROUND the dial, where there was an ornate pattern).
Here is the new platform clock…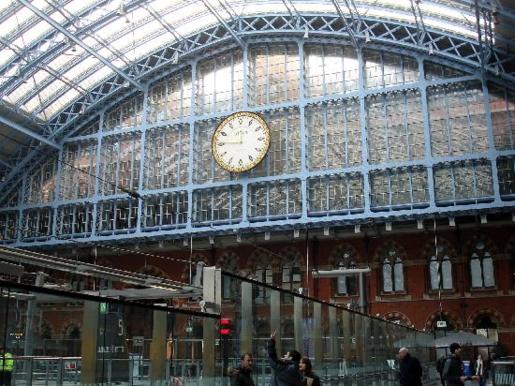 Pretty awesome, right?
The legend is…
STATUS: True
Thanks to the World Architecture News for the information!
Feel free (heck, I implore you!) to write in with your suggestions for future installments! My e-mail address is bcronin@legendsrevealed.com.