Here is the latest in a series of examinations into urban legends about music and whether they are true or false. Click here to view an archive of the movie urban legends featured so far.
MUSIC URBAN LEGEND: Patti LaBelle did not know what "Lady Marmalade" was about when she recorded it.
After performing for many years as the Blue Belles (or Bluebelles, they used both spellings) and then Patti LaBelle and the Bluebelles (or Blue Belles), in 1971 the vocal group led by Patti LaBelle officially changed their name to just LaBelle.
In 1974, they had their first and only #1 hit, with "Lady Marmalade," a song about a New Orleans prostitute…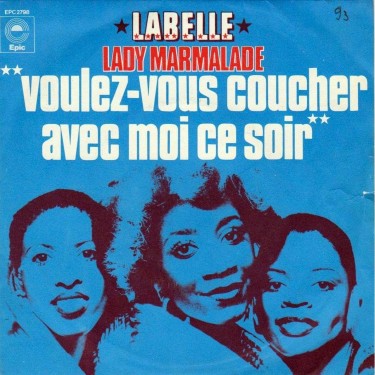 (The song was written by Bob Crewe and Kenny Nolan, who had first released the song through Nolan's own group, The Eleventh Hour, with Nolan on vocals – producer Allen Toussaint heard it and decided it would be a good song for LaBelle).
The song has been covered many times since, most notably by Christina Aguilera, Lil' Kim, Mýa and Pink.
The song was somewhat scandalous for the time, being as how it was about a prostitute and all (the French part of the chorus was ""Voulez-vous coucher avec moi (ce soir)?", which roughly translate to "Do you want to sleep with me?"). However, did Patti LaBelle seriously not know what the song was about when she recorded it?

It all really started in an NME interview LaBelle gave in 1986:
I thought people would boo us because we'd gone too far. I was afraid of change. But when we went out and did it, I said 'good!' Three outrageous black women who wore and said anything onstage… Although with 'Lady Marmalade' I swear I had no idea for a while what it meant, until I asked Bob Crewe, who recorded it, 'what's voulez-vous coucher avec moi ce soir?' He told me, 'Oh gosh', I said, 'what will my mother think?'
She told the same basic story to Jet five years later:
I didn't know what it was about. Nobody, I swear this is God's truth, nobody told me what I'd just sung a song about. Suddenly I felt all alone, that I'd done something wrong to the church, that I'd turned into some kind of bad girl. It took courage and faith to go back, but when I walked in there, I got a few looks. And, then I got the smiles and the hugs and the loves. Hey, hookers are people too. Love is what it's all about, honey. Love is gospel and gospel is love.
Here's my problem with her story. I can believe she didn't literally know what she was singing, vis a vis the French lyrics. That I can buy. However, look at the rest of the song's lyrics!
He met Marmalade down in Old New Orleans
Struttin' her stuff on the street
She said 'Hello,
Hey Joe, you wanna give it a go?
(chorus)
and
He savored her cool
While she freshed up
That boy drank all that magnolia wine
On the black satin sheets where
He started to freak
(chrous)
and
Seeing her skin feeling silky smooth
Colour of cafe au lait
Made the savage beast inside
Roaring till it cried More, More, More
Now he's at home doing 9 to 5
Living his brave life of lies
But when he turns off to sleep
All memories keep
(chorus)
In the same NME interview in which she says she didn't realize what the song was about, she said:
That song was taboo. I mean, why sing about a hooker? Why not? I had a good friend who was a hooker, and she died. She never took the mike out of my mouth and I never took the mattress from under her. She was a friend, doing her thing. It'd be like discriminating because you're white and I'm black, or you're gay and someone's straight. I don't believe in separating people. If your job is as a hooker, more power to you.
So she had a friend who was a prostitute, the English lyrics of the song are pretty plainly prostitution, I just don't buy that she was THAT oblivious. I think that her basic story of feeling ashamed is accurate, and thus she decided to say after the fact that she didn't know what she was singing when she first sang it.
However, admittedly, the true answer is known only by Patti LaBelle, so while I feel okay saying that this isn't true, I suppose I should qualify it as the legend is…
STATUS: Tentatively False
Feel free (heck, I implore you!) to write in with your suggestions for future urban legends columns! My e-mail address is bcronin@legendsrevealed.com