Here is the latest in a series of examinations into urban legends about TV and whether they are true or false. Click here to view an archive of the TV urban legends featured so far.
TV URBAN LEGEND: Bruce Willis guest-starred on Friends because he lost a bet to Matthew Perry during the filming of The Whole Nine Yards.
During the sixth season of the TV series Friends, movie star Bruce Willis guest-starred in three episodes as Paul Stevens, the father to Ross's girlfriend, Elizabeth (as we detailed in a recent TV Legends Revealed, Elizabeth was originally going to play a major role on the series). Paul not so surprisingly has a problem with his college-aged daughter dating her former professor. However, Paul also finds himself enamored with Ross' friend (and ex-girlfriend) Rachel, and he finds himself having to make nice with Ross if he wants to have a chance of dating Rachel. In the second of the three episodes Willis appears in, he has a memorable scene where he pumps himself up in the mirror before a date with Rachel, telling himself "You're a neat guy. You're a love machine."
Willis eventually won a Best Guest Actor in a Comedy Emmy Award for his performance as Paul. However, over the years, there has been an interesting rumor over just how Friends was able to get such a major movie star to guest-star on the series. Brad Pitt also guest-starred on the show, but he was married to Friends cast member Jennifer Aniston at the time. So how did they nab Willis? Was it seriously due to a bet he made with Matthew Perry, his co-star on the film The Whole Nine Yards? Read on to find out!

As the legend goes, Perry felt optimistic about their comedy's box office prospects while Willis was a bit more wary. So Perry bet Willis that if the film opened at #1 at the box office, that Willis would agree to guest-star on Friends for free. The film surprised a lot of movie prognosticators by becoming a big hit, ending up at #1 on the box office for the first three weeks of its release in 2000. Thus, Willis had to appear on Friends for free.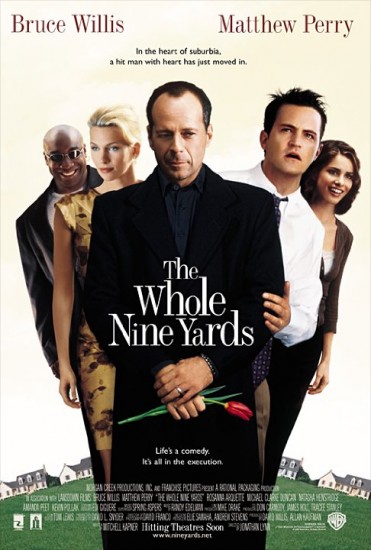 In a "People" magazine spotlight on the star in 2000, Willis was overheard calling Perry on the phone, "Hey, this is the Big Star. Come on over to eat dinner with me." In that same piece, it specifically states that Willis "agreed to a guest stint on 'Friends' simply because he and Perry thought it would be fun."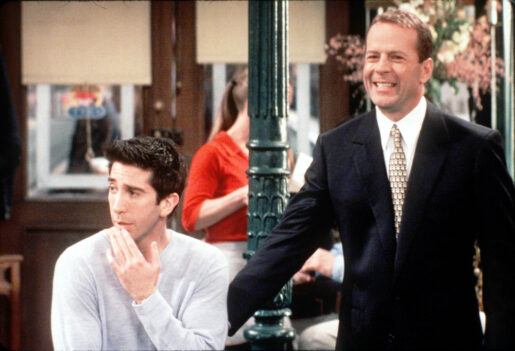 EDITED TO ADD ON 4/1/18: In a video for Wired, Bruce Willis answers the most common questions about himself on the web. For "Did Bruce Willis appear on Friends," Willis says, "I was on Friends because I lost a bet to Matthew Perry."
That certainly seems to be a definitive statement.
However, it is true that Willis accepted the role for free. Well, rather, he donated the money he made to The American Foundation for AIDS Research, AIDS Project Los Angeles, the Elizabeth Glaser Pediatric AIDS Foundation, the Rape Treatment Center, and UCLA Unicamp for underprivileged children. Willis announced the donations through his publicist.
So, could he have been scheduled to do the guest stint no matter what, and the bet was that he would do the episodes for free? And when Willis says now, "I was on Friends because I lost a bet to Matthew Perry," could that be what he's referring to? Honestly, I suspect that is precisely the case.
That said, the guy says "I was on Friends because I lost a bet to Matthew Perry," so I guess we might as well take the guy at his statement, so I'll change this one to a…
STATUS: True
And a "Possibly True" about the "Donating the money to charity because of the bet" story.
Feel free (heck, I implore you!) to write in with your suggestions for future installments! My e-mail address is bcronin@legendsrevealed.com.