Here is the latest in a series of examinations into urban legends about music and whether they are true or false. Click here to view an archive of the movie urban legends featured so far.
MUSIC URBAN LEGEND: Bob Dylan's "Dirty World" was an attempt to write a song "like Prince."
During the height of Prince's fame during the late 1980s, he and Bob Dylan did not have a whole lot in common (outside of them both being from Minnesota, of course).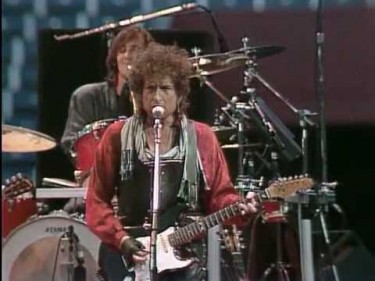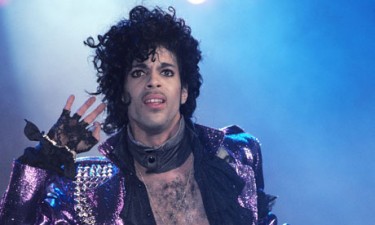 However, when Bob Dylan began writing songs for the Traveling Wilburys in 1988, he found inspiration for Prince in an unlikely song.

The Traveling Wilburys were a super group consisting of Bob Dylan, George Harrison, Tom Petty, Roy Orbison and Jeff Lynne (of E.L.O). In early 1988 (perhaps late 1987, I'm not absolutely positive on the dates) George Harrison was working on the B-Side for a single for his latest album. He was having dinner with Roy Orbison and Jeff Lynne (Lynne had produced Harrison's most recent album, including Harrison's first hit in a number of years, "I've Got My Mind Set On You" and was producing Orbison's next album) when they discussed working together on the B-Side song, "Handle With Care." They decided to record the song at Bob Dylan's home studio, with Dylan joining in on the song. Harrison had lent a guitar to Tom Petty recently and went to retrieve it for the recording of the song. When he picked up the guitar from Petty, he asked him if he wanted to join in on the song, as well. Petty said yes.
The finished song (which was re-written by the five men) was so good that Harrison realized it was better than just the B-Side of a single. So instead, the five men decided to put together a whole album. They came up with fake names and called themselves the Traveling Wilburys, with each guy being a different Wilbury (Harrison was Nelson Wilbury, Lynn was Otis Wilbury, Orbison was Lefty Wilbury, Petty was Charlie T. Wilbury Jr. and Dylan was Lucky Wilbury).
The resultant album was a surprise smash success…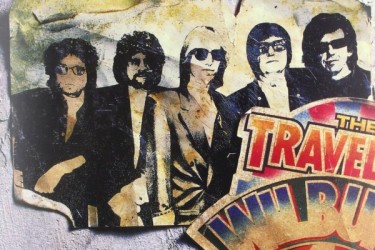 As you might imagine, the different songwriters each had their own style. For the most part, Dylan allowed himself to just contribute a lyric here or there to the songs by the other artists in their styles. Dylan, for his part, mostly decided to just have fun with the project. He was jut there to throw some stuff together quickly before he went back on tour. This atmosphere led to one of the three songs Dylan did the majority of the writing for on the album, the song "Dirty World."
George Harrison later recalled:
Bob's very funny – I mean, a lot of people take him [too] seriously. And yet if you know Dylan and his songs, he's such a joker really. And Jeff just sat down ans said, "OK, what are we gonna do?" and Bob said, "Let do one like Prince! hahaha." And he just started banging away, "Love your sexy body! Oooh-oooh-oooh-oooh bay-bee!" And it just turned into that tune.
The song was inspired by how sexual Prince's songs of the era were, as well as Prince's penchant for double entendres (more prevalent in Prince's earlier work, but still evident in the late 1980s).
The song is a series of very obvious double entendres matched with some just outright sex talk:
He loves your sexy body, he loves your dirty mind
He loves when you hold him, grab him from behind
Oh baby, you're such a pretty thing
I can't wait to introduce you to the other members of my gang

You don't need no wax job, you're smooth enough for me
If you need you oil changed I'll do it for you free
Oh baby, the pleasure would be all mine
If you let me drive your pickup truck and park it where the sun don't shine
Naturally, when Dylan is finished with it, the song doesn't sound remotely like a Prince song, but it's still a really fun tune.
Another Dylan song on the album, "Tweeter and the Monkey Man" was similarly inspired by another popular artist of the late 1980s, Bruce Springsteen. Dylan's last contribution, "Congratulations," doesn't seem to be inspired by any artist in particular.
The legend is…
STATUS: True
By the way, while Dylan wrote most of "Dirty World," each band member contributed a seemingly random word for the end of the song, where the narrator tells his love all the things he loves about her, like "He loves your big refrigerator," "He loves your five-speed gear box," "He loves your parts and services," etc.
Feel free (heck, I implore you!) to write in with your suggestions for future urban legends columns! My e-mail address is bcronin@legendsrevealed.com