Here is the latest in a series of examinations into urban legends about TV and whether they are true or false. Click here to view an archive of the TV urban legends featured so far.
TV/MOVIE URBAN LEGEND: A blacklisted writer used his wife as a front to write episodes of Lassie.
Adrian Scott was a writer and producer who had a good deal of success in the late 1940s with a series of notable noir films, most famously Crossfire, with Roberts Young, Mitchum and Ryan (I couldn't help myself, I had to phrase it that way), which was nominated for the Academy Award for Best Picture in 1948.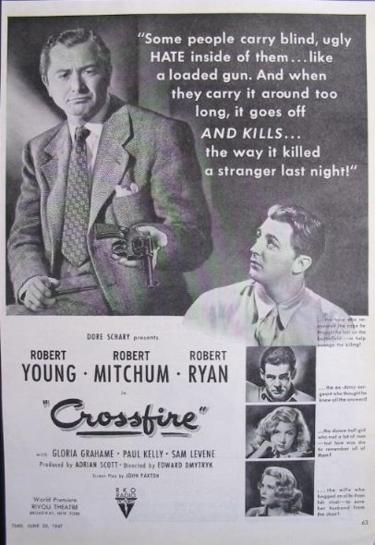 Scott worked with Director Edward Dmytryk and screenwriter John Paxton frequently in those days.
Well, in late 1947, with their movie already a hit in the theaters, both Scott and Dmytryk were called to testify in front of the US Congress' House Committee on Un-American Activities. They, along with eight other men, refused to testify.
The "Hollywood Ten" consisted of (thanks to Wikipedia for the list)…
* Alvah Bessie, screenwriter
* Herbert Biberman, screenwriter and director
* Lester Cole, screenwriter
* Edward Dmytryk, director
* Ring Lardner Jr., screenwriter
* John Howard Lawson, screenwriter
* Albert Maltz, screenwriter
* Samuel Ornitz, screenwriter
* Adrian Scott, producer and screenwriter
* Dalton Trumbo, screenwriter
Here are most of them (Dmytryk and Scott are in the back row – Dmytryk is in the middle, Scott on the right)…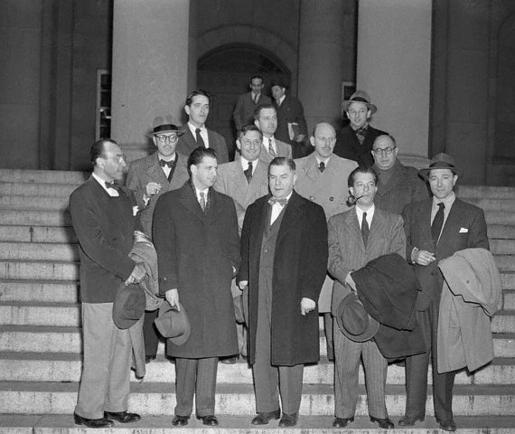 They were all held in contempt by Congress and sentenced to a year in federal prison. In addition, the studios made a big public show of "banning" each of those men from ever working for the studios again. Dmytryk got off of the "blacklist" a few years later by testifying and claiming that Scott forced him to work Communist ideology into their films.
In any event, Scott's beliefs cost him his job, his freedom (he was sent to prison for a year in 1950 – he served 10 months, getting out a few months after Dmytryk had named Scott's name in front of Congress) and it also cost him his wife, as his wife, actress Anne Shirley, divorced him in April of 1948 (Shirley did not care that he was a Communist, but she did care that she married a rich producer and now she was married to a poor writer who couldn't even work in the States. Her letter to Scott informing him of their separation is pretty rough, essentially saying that she couldn't live without Beverly Hills). Reader Matthew Johnson pointed out that I had an earlier Movie Legends Revealed feature on Anne Shirley, which you can check out here. Thanks for the reminder, Matthew!
In 1955, Scott re-married, marrying fellow screenwriter (and fellow Communist) Joan LaCour and that's where things got really interesting.

While LaCour was blacklisted as well, she was basically totally unknown in Hollywood, so she merely had to use the pseudonym Joanne Court to write for television. So Scott would use his new wife as a front to write for TV.
So, as Joanne Court, Joan would write for a number of shows, including Lassie, but it was really Adrian who was writing the episodes. Joan, though, would attend story conferences and bring back notes for Adrian to adjust his scripts accordingly.
He wrote two episodes of the show using her as a front. However, she eventually began to write for the show herself as she carved out a career as a TV screenwriter on her own, as well (she wrote five episodes in the early 1960s).
By the early 1970s, the blacklist was basically over with, and Adrian Scott was able to write under his own name again, but sadly he would pass away from cancer in 1973, mere months before his first screen credit since the blacklist appeared.
Thanks to Jennifer Langdon's Caught in the Crossfire: Adrian Scott and the Politics of Americanism in 1940s Hollywood, for the great information about Scott's life!
Feel free (heck, I implore you!) to write in with your suggestions for future installments! My e-mail address is bcronin@legendsrevealed.com.