Here is the latest in a series of examinations into urban legends about music and whether they are true or false. Click here to view an archive of the movie urban legends featured so far.
MUSIC URBAN LEGEND: The rapper Pitbull got his stage name from his love of dogfighting.
On the Doug Loves Movies podcast, celebrity guests compete against each other in games based on movie trivia. Each guest competes on behalf of a member of the crowd who brings a sign with their name on it (typically in the form of a movie poster using a movie pun, like if your name was Parker, you could have a Jurassic Park sign with Parker instead of Park. Stuff like that). Each crowd member also writes the name of someone on the back of the poster. In the event that they lose, the host of the show, comedian Doug Benson, will call whoever they write on the back a "$#!thead." It can be someone that just the crowd member knows or it can be a famous person. Whatever they like. It doesn't even have to be a person. Anyhow, in a recent episode I was listening to the other day, one of the names was "Pitbull, who got his name from his love for dogfighting." I had never heard that, and I wondered if it was true.
Pitbull, as you may or may not know, is a famous rapper from Miami who became famous in that city (calling himself "Mr. 305" after Miami's area code) before becoming world famous (he know calls himself "Mr. Worldwide").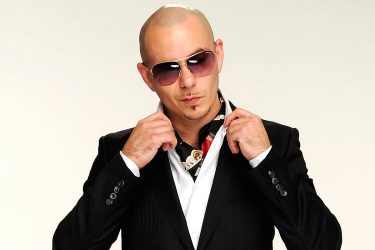 So is the origin of his name true?

In a 2004 spotlight on the rapper in the Washington Post (before he even had an official record release), he explained the origin of the name this way:
He dubbed himself "Pitbull" because, he says, "they bite to lock. The dog is too stupid to lose. And they're outlawed in Dade County. They're basically everything that I am. It's been a constant fight."
Pitbull (born Armando Perez) told a more detailed version of the naming origin story on the Howard Stern radio show in May 2015:
"I said, 'Well, I was on the way to a pitbull fight, and a Dominican friend of mine was like, 'Yo, that should be your name — you're always out here fighting these guys and battling in rap and this,' " the Miami-born entertainer says. Pitbull continued with a laugh, "And Jeb goes, 'Well, good thing you weren't on the way to a cockfight.' "

"I was [like,] 'Jeb, that was pretty slick!' " Pitbull exclaimed.
(The New York Times then retold that story in December, leading to the Bush camp having to announced that they were not in favor of dogfighting).
The second version matches the first one pretty well, just with the extra detail of actually being a dogfighting fan. Pitbull openly discusses his time as a drug dealer early on before he made it as a rapper, so I don't see why he'd blanch at telling the truth about being into dogfighting.
So I'm going with this one as…
STATUS: True
Thanks to the Washington Post, Howard Stern and Pitbull for the information.
Feel free (heck, I implore you!) to write in with your suggestions for future urban legends columns! My e-mail address is bcronin@legendsrevealed.com