Here is the latest in a series of examinations into urban legends about movies and whether they are true or false. Click here to see all the Movie urban legends featured so far.
MOVIE URBAN LEGEND: "Have Yourself a Merry Little Christmas" nearly never existed because it was too depressing.
It comes as little surprise to any moviegoer out there that the soundtrack to a film musical plays a major role in how the story of the film is presented. We've discussed in the past how the song "Let it Go" literally changed the whole focus of Disney's hit film, Frozen, turning Elsa from a villain to a hero. Similarly, though, if you don't want to change the story of your film, then you will have problems if the songs you are given don't fit the story of the film. This was the key conflict that very nearly led to the classic Christmas song, "Have Yourself a Merry Little Christmas," never being released.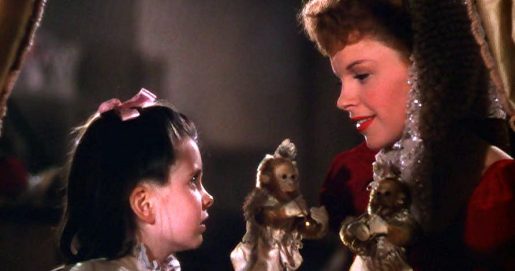 Produced by Arthur Freed and directed by Vincente Minnelli, Meet Me in St. Louis starred Judy Garland as one of four daughters of a prominent St. Louis family at the turn of the 20th Century. The film follows the family over the course of a year in their lives, as the older daughters fall in love and the father nearly moves the whole family from St. Louis to New York City. It was a massive hit (Garland also ended up marrying the director) and produced a number of hit songs, including "The Trolley Song" and, perhaps most famously, the Christmas classic "Have Yourself a Merry Little Christmas."
Most of the songs were written by the songwriting team of Hugh Martin and Ralph Blaine. Martin and Blaine mostly worked separately at the time, each having their own office at Metro-Goldwyn-Mayer. It was during this point that Martin originated the melody that would eventually become "Have Yourself a Merry Little Christmas." He worked on it for a few days before just throwing it into the wastepaper basket. Blaine, though, working just next door, had heard the song and he felt that it had legs, so he compelled Martin to save the song. He later recalled in an interview with NPR's Terry Gross, "We dug around the wastebasket and found it. Thank the Lord we found it."
So Martin further developed the song for a major scene in the film where Garland's character is trying to comfort her youngest sister (played by the great Margaret O'Brien) at Christmastime about their upcoming move to New York City.
Now, throughout the filming of the movie, Garland was quite up front about what she felt worked for her and what she felt did NOT work for her. Martin and Blaine would recall that she would do it politely, saying stuff like, "Oh, I'd love to sing that song in a show – just not in this movie."
And Garland had a problem with the original version of "Have Yourself a Merry Little Christmas."
You see, the original version was a good deal darker than the one eventually used, and the one eventually used is ALREADY a bittersweet song about how life goes on and you have to go on with it. One of the early lines in the song, though, was "Have yourself a merry little Christmas. It may be your last. Next year we may all be living in the past."
Garland told Martin that she just couldn't sing the song. He recalled:
[T]he original version was so lugubrious that Judy Garland refused to sing it. She said, if I sing that to little Margaret O'Brien they'll think I'm a monster.
Martin was a thirty-year-old man at the top of his game at the time, and he had the arrogance that came from being a young man at the top of his game, so he told her fine, and junked the song.
However, Tom Drake, the actor who played Garland's love interest in the film, went to Martin and asked him to reconsider, telling him that the song was so good otherwise that it would be a shame to junk it. Martin ultimately agreed and went home and wrote the version that was used in the movie.
Amusingly enough, years after the film and the song became a big hit, Frank Sinatra decided that he wanted to include it on his much-anticipated 1957 Christmas album, A Jolly Christmas from Frank Sinatra. The album already had a new tune from Sammy Cahn and Jule Styne called "The Christmas Waltz," on it. However, the problem was that Sinatra found the finished song STILL too depressing. Specifically, Sinatra had a problem with the line "muddle through somehow" in this section of the song:
Someday soon, we all will be together, if the fates allow
Until then, we'll have to muddle through somehow
So have yourself a merry little Christmas now
As Martin recalled:
I got a phone call from Frank Sinatra saying I'm doing an album called "A Jolly Christmas," and I love your song, but it's just not very jolly. Do you think you could jolly it up a little bit for me? So then I wrote the line about have your – hang a shining star up on the highest bough. And Frank liked that and recorded it. And people, they do, sometimes they do that line, and sometimes they do the muddle through line somehow.
I'm partial to the "muddle through somehow" version over the "hang a shining star up on the highest bough" version.
The legend is…
STATUS: True
Thanks to Hugh Martin, Ralph Blaine and Terry Gross for the information!
Be sure to check out my archive of TV Legends Revealed for more urban legends about the world of film. And click here for more legends about Christmas.
Feel free (heck, I implore you!) to write in with your suggestions for future installments! My e-mail address is bcronin@legendsrevealed.com.