Here is the latest in a series of examinations into urban legends about TV and whether they are true or false. Click here to view an archive of the TV urban legends featured so far.
TV URBAN LEGEND: Sesame Street's Bert and Ernie were named after George Bailey's two best friends in It's a Wonderful Life.
In the Christmas classic, It's a Wonderful Life, George Bailey's two best friends are Bedford Falls' town cop, Bert (played by Ward Bond) and the town cabbie, Ernie (Frank Faylen)….
As you all know by now, two of the most popular Muppets on Sesame Street are the two best friends, Bert and Ernie…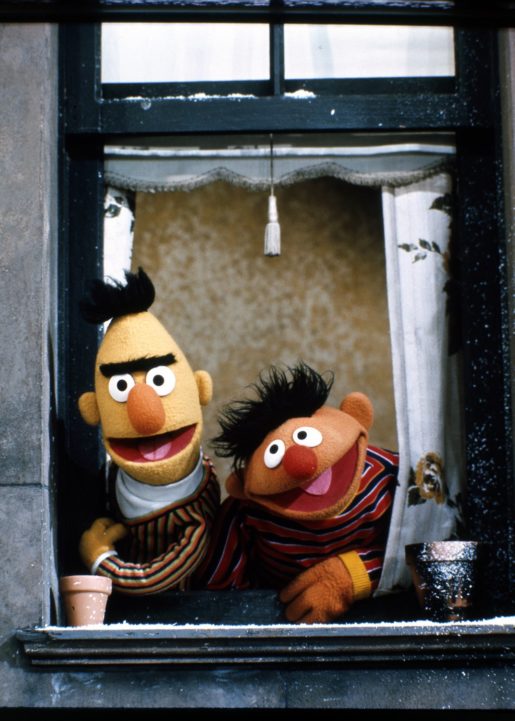 Naturally, over the years, people have assumed that the Sesame Street characters were named after the It's a Wonderful Life characters. You see this all the time, even from Sesame Street produces.
But is it true?

It does not appear to be true, no.
Years ago, when the San Francisco Chronicle wrote an article in 1999 about trivia and mentioned this bit of trivia, longtime Sesame Street writer Jerry Juhl wrote into the paper to share the following:
I was the head writer for the Muppets for 36 years and one of the original writers on 'Sesame Street.' The rumor about 'It's a Wonderful Life' has persisted over the years.

"I was not present at the naming, but I was always positive it was incorrect. Despite his many talents, Jim had no memory for details like this. He knew the movie, of course, but would not have remembered the cop and the cabdriver. I was not able to confirm this with Jim before he died, but shortly thereafter I spoke to Jon Stone, Sesame Street's first producer and head writer and a man largely responsible for the show's format. (Jon, sadly, is no longer with us either.)

"He assured me that Ernie and Bert were named one day when he and Jim were studying the prototype puppets. They decided that one of them looked like an Ernie, and the other one looked like a Bert. The movie character names are purely coincidental.
I don't think we can quite beat that for definitive statements on the topic (especially since Stone and Henson are both long dead and heck, even Juhl died a few years after he wrote that letter), so I'm willing to go with the legend as…
STATUS: False
Thanks to Jerry Juhl and Jon Carroll for the information!
Be sure to check out my archive of TV Legends Revealed for more urban legends about the world of television. Click here for more legends specifically about Christmas.
Feel free (heck, I implore you!) to write in with your suggestions for future installments! My e-mail address is bcronin@legendsrevealed.com.