Here is the latest in a series of examinations into urban legends about hockey and whether they are true or false. Click here to view an archive of the hockey urban legends featured so far.
HOCKEY URBAN LEGEND: Fired Chicago Blackhawks coach Pete Muldoon put a curse on the Blackhawks that lasted almost forty years.
Pete Muldoon was the coach of the Chicago Blackhawks in their first season in the 1926-27 hockey season.
The Hawks played well, but lost in the first round of the playoffs. The Blackhawks owner then fired Muldoon after just the one season, as the owner (Frederic McLaughlin) felt that the team was talented enough to finish first instead of third.
Years later, in 1943, hockey reporter Jim Coleman of TheToronto Globe and Mail wrote that when McLaughlin told Muldoon that the team should have finished first, Muldoon replied that the team was not good enough to finish first, upon which McLaughlin fired him on the spot. In retaliation, Muldoon placed a curse upon the Blackhawks – "Fire me, Major, and you'll never finish first. I'll put a curse on this team that will hoodoo it until the end of time."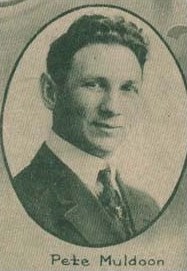 And sure enough, even though at the time the Blackhawks had already won two Stanley Cups since Muldoon's firing (1934 and 1938), neither time did they finish first.
And they did not finish first in either their division or the NHL period (when there was just one division) until 1967!!
Is the story true?

Now, first off, of course it is false because, you know, there's no such thing AS a curse!
But secondly, once the Blackhawks finished first, Coleman then admitted to making the whole thing up.
How could such a story make it that long without Muldoon or McLaughlin debunking it?
Well, Muldoon died in 1929.
McLaughlin died less than a year after Coleman's story (and heck, for McLaughlin, the story was probably better than the Blackhawks just not being good enough to finish first!).
So Coleman followed one of the first rules of making up stories – make them up about people who can't call you a liar!!
STATUS: False
Feel free (heck, I implore you!) to write in with your suggestions for future installments! My e-mail address is bcronin@legendsrevealed.com