Here is the latest in a series of examinations into urban legends about movies and whether they are true or false. Click here to view an archive of the movie urban legends featured so far.
MOVIE URBAN LEGEND: George Reeves had a number of scenes cut out of From Here to Eternity because test audiences were too jarred at seeing TV's Superman in the film.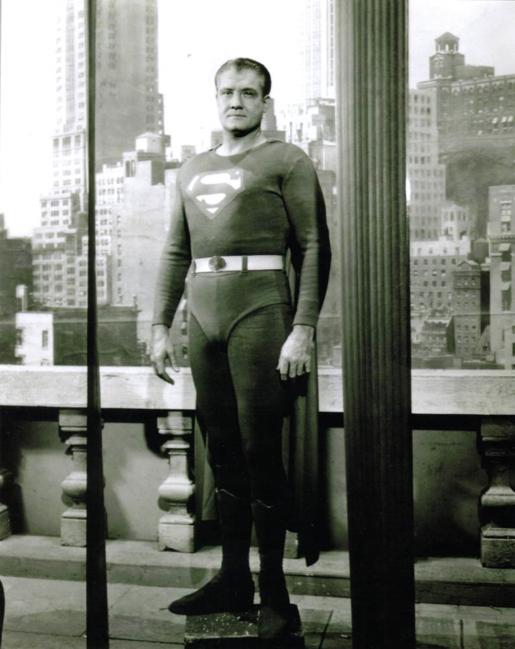 George Reeves was already appearing as Superman in The Adventures of Superman when he appeared in the 1953 film, From Here to Eternity, as the character of Sergeant Maylon Stark.
In the 1952 James Jones novel that the film was based on, depicting the various troubles of servicemen stationed in Pearl Harbor in the months leading up to the sneak attack by the Japanese in December of 1941, Stark had a fairly sizable supporting role (below is the famous scene on the beach with leads Burt Lancaster and Deborah Kerr).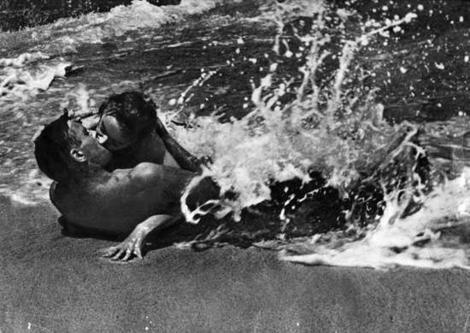 In the film, however, he is a very minor character.
As many people know by now, George Reeves suffered great difficulties dealing with being typecast as Superman after the show ended, ultimately leading to his alleged suicide in 1959.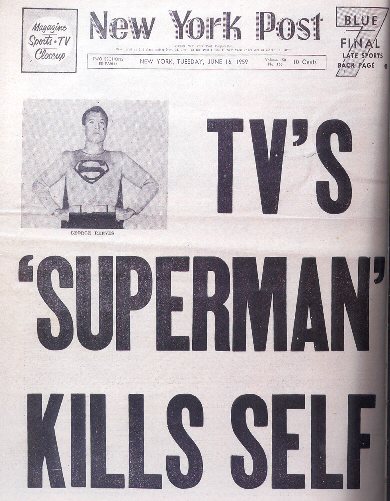 Now, a legend sprung up regarding From Here to Eternity and the relatively small role of Reeves in the picture.
In his discussion of the film on the All Movie Guide, Hal Erickson pretty concisely describes the legend…
If you're able to take your eyes off the principals for a moment or two, keep an eye out for George Reeves; his supporting role was shaved down when, during previews, audiences yelled "There's Superman!" and began to laugh.
Read on to learn the truth…
So that's been the legend over the years, even though when asked about it, most folks involved in the filming of the movie deny it, but the legend made its way into the docudrama about Reeves's death, Hollywoodland.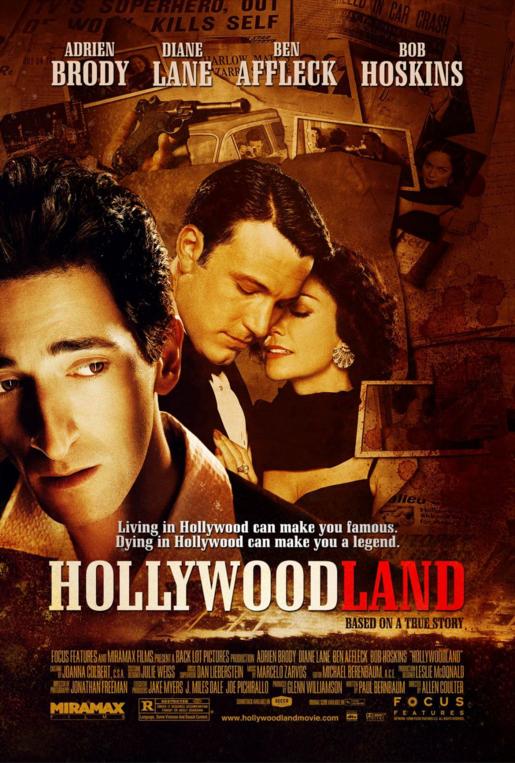 By the way, my pal, Greg Hatcher, has a nice piece up about Hollywoodland here.
In any event, film historian/actor/writer Jim Beaver has probably the most thorough debunking of this legend up here, so let's take a look at what Jim has to say:
Actually, it's an urban legend of sorts that George Reeves's role in FROM HERE TO ETERNITY was cut down due to his sudden popularity as Superman. The source of this tale is Jack Larson, who starred with Reeves as Jimmy Olsen on the Superman show. He saw the film (FHTE) the day it opened and remembers audience members calling out "There's Superman." The next time he saw the film, he says Reeves's role had been severely cut.

The problem with this is manifold. First, Jack's next viewing of the film, as he told me personally, was some twenty-five years later. I'm convinced that his memory of what he'd seen in that initial viewing had "expanded" over the years, particularly in light of the impact of Superman typecasting on Reeves's career and life. Secondly, Daniel Taradash's first-draft screenplay, and every draft thereafter, contains exactly the scenes for Reeves's character that are in the film as released and as now seen, and not one scene more nor less. Taradash told me personally that he did not write a single scene for Reeves's character that was not in the final release print or in subsequent video releases. Thirdly, director Fred Zinneman told me personally that not only was not one of Reeves's scenes cut from the film, but that not one frame of the film was cut after the first audience screenings. He was at the same viewing that Jack Larson attended and, while he allowed as that there might have been some muttered reference to Superman from audience members, he does not remember any and that in any case, there was no impact whatsoever on the film as released, nor even any discussion of the matter. He said the video release of the film is identical to the original theatrical release and that not one frame of Reeves's scenes was cut for any such reason. Fourthly, the editor of the film and its assistant director also confirmed and concurred with the statements of Taradash and Zinneman. Fifthly, several of the cast members, including Frank Sinatra and Claude Akins, assured me they knew of no such reduction in Reeves's screen time for any reason.

Part of the problem may stem from the fact that Sgt. Maylon Stark, Reeves's character, is a vastly more important character in the novel of FROM HERE TO ETERNITY. Scores of characters from that huge book were either trimmed or eliminated. Sgt. Stark remained, but in a smallish way, in the film. But it was a small part in the first place, long before George Reeves was cast. It was never reduced further, due to his Superman fame or for any other reason.
Beautiful and thorough work, Jim!
The legend is…
STATUS: False
A great many thanks to Jim for his thorough research abilities – I hope we someday see a George Reeves' biography from Jim. I hear he's been working on one for time – it is kinda hard to be a working actor AND write an extensive biography, I'm sure.
Feel free (heck, I implore you!) to write in with your suggestions for future urban legends columns! My e-mail address is bcronin@legendsrevealed.com