Here is the latest in a series of examinations into urban legends about movies and whether they are true or false. Click here to view an archive of the movie urban legends featured so far.
MOVIE URBAN LEGEND: Tony Curtis said that kissing Marilyn Monroe was "like kissing Hitler."
Stories in Hollywood often seem to go on a real interesting journey on the way to "fact," and they usually go through many pitstops on the way there, including stops in "denial" and "elaboration" until we finally get an approximation of the truth.
Such is the case with what Tony Curtis said about Marilyn Monroe when they filmed the classic Billy Wilder film Some Like It Hot together in the summer of 1958.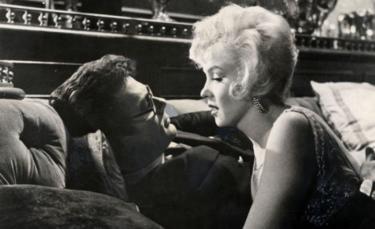 Curtis and Monroe had actually had a bit of a tryst in the very early 1950s (likely 1950 exactly, but maybe 1949), when neither were particularly famous.
But by the time they co-starred together in Some Like It Hot, Curtis was an established box office star and Monroe, well, Monroe was a bit of an icon.
An icon that did not appreciate the fact that she was playing yet another dumb blonde in her first film in two years. She had come out of semi-retirement to appear in Some Like It Hot, but it is clear that she was not thrilled to do so, but rather was making a concession to the fact that it was likely to be a hit film.
While filming Some Like It Hot, Monroe was habitually late, ruined scenes and was overall an extremely difficult person to be around. Director Billy Wilder did not even invite her to the wrap party for the movie.
In the film, Curtis is Monroe's love interest. When asked what kissing Monroe was like, Curtis reportedly said it was "like kissing Hitler."
The story became an instant Hollywood legend, the sort of thing that would be repeated no matter if it is true or not.
As to the truth of the quote, Curtis muddied that up when he denied saying it a number of times. In an interview about ten years ago, Curtis said of Monroe:
She would play Jack Lemmon off against me or me against him, and Billy Wilder against both of us. But I never said kissing her was like kissing Hitler! I don't know where that came from.
Where it came from was a screening room during Some Like It Hot where most of the crew were watching the dailies of the film. Someone commented that Curtis' kissing scene with Monroe looked like he was really enjoying himself, so they asked what it was like. Curtis blithely responded that it was like kissing Hitler. It got a big laugh, although it greatly upset Paula Strasberg, who in the room (Strasberg was Monroe's acting coach, and her confidante – she was on the film as a sort of entourage for Monroe). Monroe was not in the room at the time, but she of course was filled in soon enough. The room was filled with plenty of witnesses to the quote, though.
More recently, Curtis finally admitted to the story, only he has offered up that it was not serious, he was just trying to get a laugh and to also make fun of the absurdity of the question.
Thanks to David Fantle's Reel to Real: 25 Years of Celebrity Interviews
for the first quote from Curtis, and I certainly owe thanks and a great debt to Curtis' recent book, American Prince: A Memoir
for Curtis' admission regarding the quote.
The legend is…
STATUS: Apparently True
Feel free (heck, I implore you!) to write in with your suggestions for future urban legends columns! My e-mail address is bcronin@legendsrevealed.com