Here is the latest in a series of examinations into urban legends about movies and whether they are true or false. Click here to view an archive of the movie urban legends featured so far.
MOVIE URBAN LEGEND: "As Time Goes By" would have been removed from Casablance had it not been for a haircut.
The song "As Time Goes By" was written by Herman Hupfeld. It first appeared in a Broadway musical titled Everybody's Welcome in 1931. The show was not particularly successful, and the song was only moderately more successful than the show, getting recorded by a few artists. For the most part, though, the song came and went and was basically forgotten.
Forgotten except for a fellow who was attending Cornell when the song came out. Murray Burnett thought that the song was excellent. So when he and Joan Allison co-wrote a play in 1940 about a bar in Casablanca named Everybody Comes to Rick's, Burnett had the song be the song that their play's two ill-fated lovers, Rick and Ilsa, listened to often when they spent their time together in Paris in love.
Burnett and Allison were not able to get the play produced, so they sold the rights to the play to Warner Brothers, who turned it into the classic film, Casablanca, starring Humphrey Bogart and Ingrid Bergman.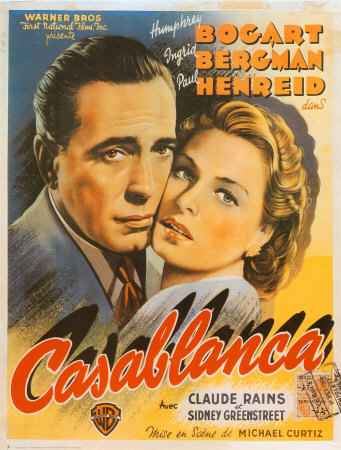 As it turned out, Warner Brothers' music department owned the publishing rights to "As Time Goes By," so they agreed to keep the song as part of the film.
The song is used to tremendous effect in the movie, performed by Dooley Wilson…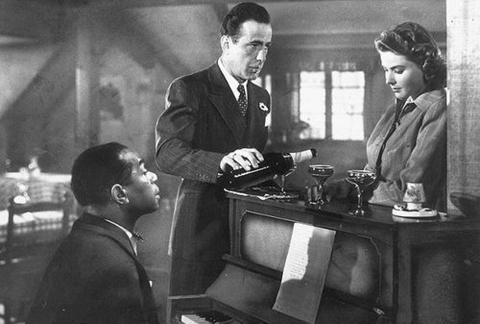 It is especially used well when Rick exhorts his piano playing friend, Sam, to play the song for him (as Sam played it at the bequest of Ilsa, who showed up in Rick's bar not having seen him for years and now married to another man)…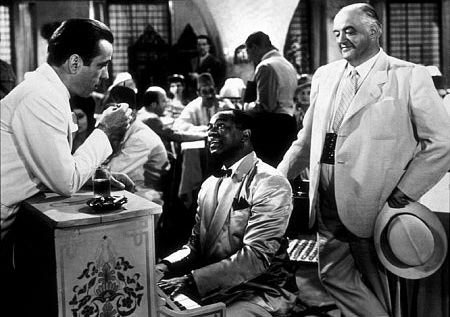 However notable the song is in the film, it very nearly did not make it into the finished product!
The film was scored by noted film composer Max Steiner.
Steiner argued to producer Hal Wallis that the song just did not work for the film and should be replaced by a different song.
Steiner's motives have been called into question by those who suggest that he really just wanted a song of HIS to make it into the movie, as he would get royalties this way.
Whatever the motivation, Steiner had Wallis just about convinced, except that since the song was a prominent part of some major scenes with Rick and Ilsa, they would need to reshoot the scenes (Casablanca had a number of scenes reshot, so it would not be unheard of to bring them back for this reason) with the song being played.
The problem was, Ingrid Bergman had already moved on to her next project, a screen adaptation of Ernest Hemingway's For Whom the Bell Tolls, alongside Gary Cooper…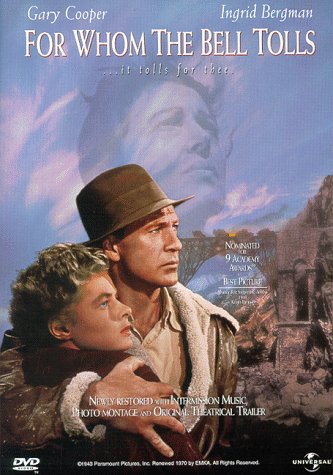 Now, it would be a terrible scheduling pain to get Bergman back to reshoot the scenes, but even worse, what made the reshoot basically useless is that Bergman had cut her hair MUCH shorter for her role in her new film, so that made reshoots nearly impossible (although you could also argue that the filmmakers told Wallis this much so that they could avoid the reshoots).
To Steiner's credit, he then scored the film beautifully, using "As Time Goes By" as the linchpin of the score (even intercutting it here and there). So it was nice that he did not seem to bear any ill will to the song once it became clear that he was stuck with it.
Of course, when the film was released in 1942, it became a smash hit and "As Time Goes By" became a blockbuster tune, as well.
And to think – it made it there by the length of a lady's hair. Talk about cutting it close!
The legend is…
STATUS: True
Feel free (heck, I implore you!) to write in with your suggestions for future urban legends columns! My e-mail address is bcronin@legendsrevealed.com