Here is the latest in a series of examinations into urban legends about music and whether they are true or false. Click here to view an archive of the music urban legends featured so far.
MUSIC URBAN LEGEND: A singer once had a Top 40 song with 28 variations of the song depending on where the song was released!
Tommy Facenda broke into the music industry while still in his teens, working as a member of Gene Vincent's backing band, the Blue Caps, in 1957 (Facenda was 18).
Facenda was a strong guitarist, and a good singer, to boot, and soon he was pursuing a solo career, as well.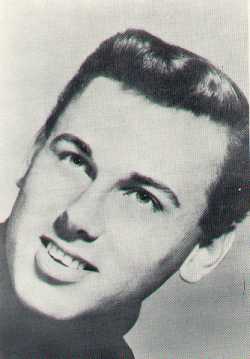 His solo career did not go particularly far, but he did have one Top 40 hit, and it was one of the more bizarre Top 40 hits that you'll see!
Frank Guida, head of Legrend Records, gave Facenda a song based on the high schools in Guida's home state of Virginia, called "High School U.S.A." The song references a number of high schools in Virginia.
Then Guida had a stroke of genius (or madness?)!
First, he would have Facenda record a "national" version of the song (where he would name cities rather than high schools), then he would have him record a different version of "High School U.S.A." for each region of the United States (well, a lot of them, at least)!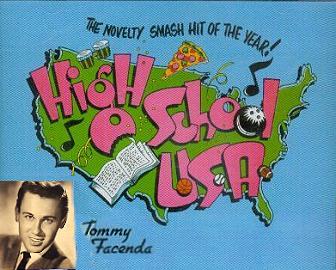 Each regional version of the song would mention high schools from that region – it was a very impressive job of editing to make all the various high schools fit into the basic song structure of the tune.
Here are the TWENTY-EIGHT regional versions of the song!
* Virginia
* New York City
* North & South Carolina
* Washington D.C.
* Philadelphia
* Detroit
* Pittsburgh
* Minneapolis/St. Paul
* Florida
* Newark, New Jersey
* Boston
* Cleveland
* Buffalo
* Hartford, Connecticut
* Nashville
* Indianapolis
* Chicago
* New Orleans
* St. Louis & Kansas City
* Georgia & Alabama
* Cincinnati
* Memphis
* Los Angeles
* San Francisco
* Texas
* Seattle, WA & Portland, OR
* Denver
* Oklahoma
Amazing, huh?
The song went to #28 on the Billboard Top 100.
Facenda ended up quitting show business during the 1960s and became a firefighter (and part time actor) for more than thirty years.
The legend is…
STATUS: True
Feel free (heck, I implore you!) to write in with your suggestions for future urban legends columns! My e-mail address is bcronin@legendsrevealed.com