Here is the latest in a series of examinations into urban legends about music and whether they are true or false. Click here to view an archive of the music urban legends featured so far.
MUSIC URBAN LEGEND: Ricky Valance named himself after Richie Valens.
Ricky Valance was a popular British singer in the early 1960s, becoming one of the earliest "teen" singers to be accepted in England, where performances by "teen idols" were seen by the BBC as being almost un-classy in the late 1950s/very early 1960s.
A common practice would be to have British artists do cover versions of American songs, and that's what happened with Valance in 1960 when he covered Ray Peterson's "Tell Laura I Love Her."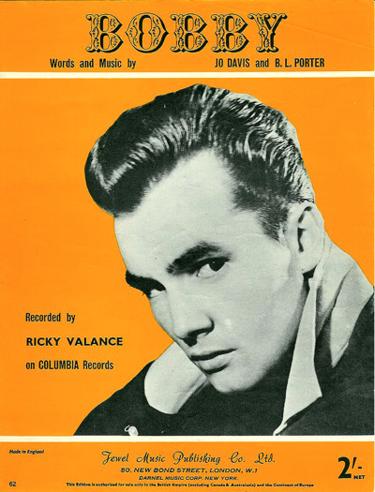 The song went to #1 in late 1960, with Valance becoming the first Welshman to have a #1 hit on the British charts.
In any event, it has long been stated that Valance (born David Spencer) took the stage name "Ricky Valance" in honor of "La Bamba" singer Richie Valens, who died in the same plane crash as Buddy Holly and the Big Bopper.
True?

Valance says that this is untrue, and that he took the name because:
I'd always liked the name Ricky and when looking for a surname to go with it, one day I was at a horse racing meeting when I noticed that the trainer of one of the the horses was a Colonel Valance, which I immediately liked and so, Ricky Valance was born.
Valance is quite irritated over the whole "Valens" thing, and I dunno, it seems like a rather odd thing to lie about, doesn't it? So I'm willing to believe Valance.
The above quote comes from his website.
So I'm willing to go with the legend as..
STATUS: False
Feel free (heck, I implore you!) to write in with your suggestions for future installments! My e-mail address is bcronin@legendsrevealed.com.