Here is the latest in a series of examinations into urban legends about movies and whether they are true or false. Click here to view an archive of the movie urban legends featured so far.
MOVIE URBAN LEGEND: Victor Fleming had an…interesting method for getting Judy Garland to keep from laughing during the filming of a scene for the Wizard of Oz.
Victor Fleming was actually the FOURTH director on the Wizard of Oz (following Norman Taurog, Richard Thorpe and George Cukor), but if you had to pick one person as "the" director of the film, I suppose you'd have to go with Fleming.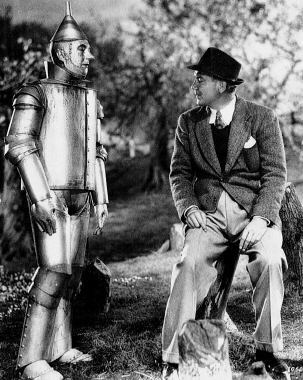 In any event, there's a famous (infamous?) story about Fleming and Judy Garland from the film that I've seen a few times over the years and I've always been a bit suspicious of it.
Here's the story:

One day on the set of The Wizard of Oz (1939), Judy Garland found herself playing a simple scene in which her character (Dorothy) slaps the supposed ferocious lion (Bert Lahr) and he promptly begins to cry. When she slapped Lahr, however, his reaction was so comical that Garland burst into fits of laughter. Director Victor Fleming ordered another take, but again Lahr's expressions reduced his costar to tears. At last she retreated behind a tree and made a vow: "I will not laugh. I will not laugh."

Sure enough, in the next take she was once again convulsed with laughter and eventually grew so hysterical that she simply could not stop. Fleming finally went over and slapped her firmly in the face. "All right now," he said, "go back to your dressing room." Garland did as she was told and returned a few minutes later. "OK," she said, and performed the scene without a hitch.
The story first appeared in the 1977 Aljean Harmetz classic book The Making of the Wizard of Oz: Movie Magic and Studio Power in the Prime of MGM
, with the source being screenwriter John Lee Mahin, who worked on the film.
A second-hand story is a BIT fishy, even if it came from someone who definitely DID work on the film like Mahin, so I've always been a bit wary of the story, but after reading through a couple of Victor Fleming biographies, it seems to be pretty accepted by Fleming historians and, in fact, his own family (his daughter says it sounds like something her dad would do – and she denies any assertion that such behavior was "abuse" under the "that's just how things were back then" theory), so I'm willing to believe Mahin.
Crazy story, though!
The legend is…
STATUS: I'm Going with True
Feel free (heck, I implore you!) to write in with your suggestions for future installments! My e-mail address is bcronin@legendsrevealed.com.