Here is the latest in a series of examinations into urban legends about TV and whether they are true or false. Click here to view an archive of the TV urban legends featured so far.
TV URBAN LEGEND: Laverne Cox is the first openly transgender person to be nominated for an Emmy Award.
The 2014 Emmy Awards was lauded as one of the most LGBTQ-inclusive Emmy Awards ever. Openly gay actors like Jim Parsons, Jesse Tyler Ferguson, Kate McKinnon and Sarah Paulson were all nominated (with Parsons winning Best Lead Actor in a Comedy). In addition, a number of shows and TV films with notable gay characters like A Normal Heart, Orange is the New Black and Modern Family were all prominently recognized in the nominations (and victories, like Modern Family winning its fifth straight Best Comedy Emmy). The most notable nomination, though, was undoubtedly Laverne Cox from Orange is the New Black. The transgender actress was nominated for Outstanding Guest Actress in a Comedy Series (the Guest Acting Awards were given out a week before the actual Emmy Awards ceremony – Cox lost to her fellow Orange is the New Black actress, Uzo Aduba).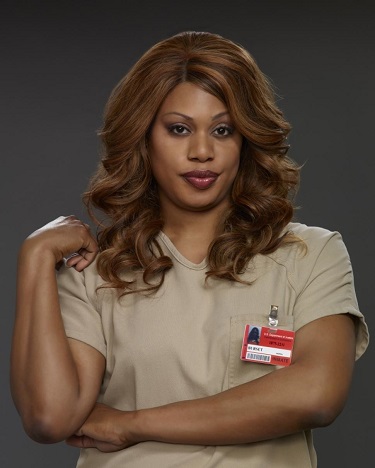 It was a historical nomination. However, speaking of history, it appears that a number of media outlets might have missed the boat a bit. Time magazine stated, "Laverne Cox has become the first transgender person nominated for an Emmy award." Extra noted, "Orange Is the New Black" star Laverne Cox made history on Thursday as the first transgender Emmy nominee." Even when Laverne Cox was on Late Night with Seth Meyers (Meyers hosted the Emmys), Meyers described her as "the first openly transgender person nominated ever to get nominated for an Emmy Award." Is that true?

The answer is no. And the answer of how long ago the first Emmy Award nomination for an openly transgender woman happened might surprise you!
Born in 1924 as Walter "Wally" Stott, Angela Morley became a popular composer in England during the 1950s, specializing in so-called "light music" (sometimes referred to as "mood music"), short orchestral pieces designed to be absorbed by a more mainstream audience that might not be prepared to commit to longer classical pieces. This style of music was all the rage in England in the 1950s and Morley (as Stott) became the primary arranger and composer for the Phillips music label. During the same time period, she was also the musical director for the acclaimed comedy program The Goon Show (starring comedy legends Spike Milligan – who we did an old TV Legend about here, Harry Secombe and Peter Sellers) from the show's third season in 1953 until it finished in 1960.
So as Stott, Morley was an accomplished figure in the world of radio and film, as well (as her scores began to show up in a number of films of the time). Marley was married and had two children with her first wife. After her first wife died she remarried in 1970 and it was then that she began to confront her gender identity struggle. "It was only because of her love and support that I then was able to deal with the trauma, and begin to think about crossing over that terrifying gender border." In 1972, she had what was at the time referred to as a "sex-rectifying operation" and adopted the new first name Angela and her mother's maiden name, Morley. Can you imagine being a public figure in 1972 having a "sex-rectifying operation"? What an amazing show of courage.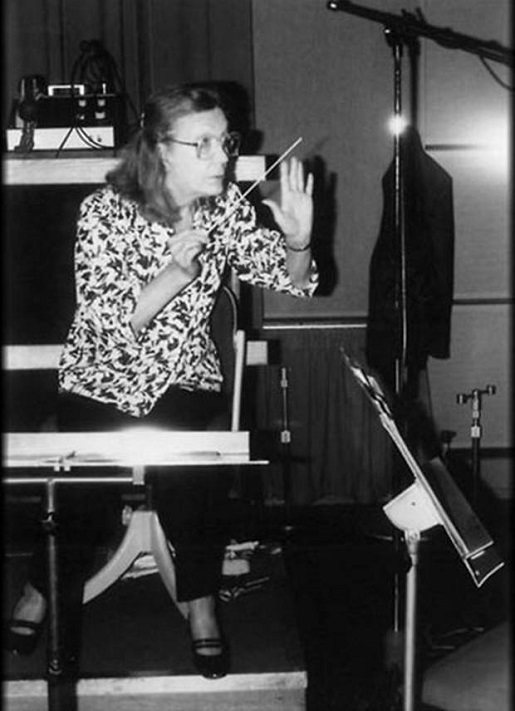 At first, the name change was also designed to hide herself from her former colleagues, as she chose not to be involved in the 1972 event The Last Goon Show of All because she was not yet ready to reveal herself.
However, the field of film and television scoring and arranging is not exactly a larger one, so it was not long before she was out to pretty much everyone. She continued working, though, earning a share of an Academy Award nomination for Best Score for Lerner and Loewe's The Little Prince in 1974 and for the Sherman Brother's The Slipper and the Rose in 1976. She also worked with John Williams on the orchestrations for Star Wars, Superman and the Empire Strikes Back. In 1980, Morley moved to the United States where she became a renowned television composer and arranger. She went on to be nominated for eleven Emmy Awards, beginning in 1980 with Outstanding Achievement in Music Direction for The Big Show. Five of her nominations were for Outstanding Achievement in Music Direction and the other six were for Outstanding Music Composition for a Series (Dramatic Underscore) (she scored shows like Dallas, Dynasty and Falcon Crest). She won three Emmys for Music Direction (a Christmas Special and two Julie Andrews specials).
Morley remained married to her second wife Christine until Morley's death in 2009.
So Cox had a very strong forebear in the person of Morley. That does not take away from Cox's achievement, of course. She is the first openly transgender Emmy nominee for an ACTING award, which are obviously much more visible to the world (as seen by the fact that no one recalls that Morley was nominated nearly a dozen times).
Cox had a brilliant public response to Time over her Emmy nomination:
For me personally, I am an individual who consumes mainstream culture. I watch a lot of television. I go to mainstream films. And I want to see myself. I want to turn on the television and see people who look like me who have similar experiences that I have. And I think that trans people want and deserve that; everybody wants and deserves that. We should have representations that humanize our experiences and tell the diversity and the complexity of our experiences. I have mainstream sensibilities. Just because I'm black and trans does not mean I'm somehow not mainstream and not consuming the same culture everyone else is consuming. For so long we haven't had that kind of validation of our experiences in mainstream culture, particularly as black trans women — but as trans people in general

I am a patriot and I love this country. What I've always loved about this country, in theory, is that this is a place where anything is possible for anybody if you work hard enough, at least in theory. We know that there are systemic things in place that keep a lot of people from reaching their dreams and achieving their goals, but in theory it shouldn't be about your race or your religion or your gender or your class that you were born into. You should be able to rise up and have your moments. It's not possible for a lot of people but I just think that in terms of forming a more perfect union and having to live up to those ideals, representation and having everyone's story told in our media is an important part of that.
Awesome. I'm sure Morley would have been proud.
The legend is…
STATUS: False
Feel free (heck, I implore you!) to write in with your suggestions for future installments! My e-mail address is bcronin@legendsrevealed.com.