Here is the latest in a series of examinations into urban legends related to board games and whether they are true or false. Click here for an archive of all board game urban legends so far.
BOARD GAME URBAN LEGEND: Candyland had to sue to get the rights to candyland.com away from a porn company.
Candyland, currently produced by Hasbro, is one of the most popular board games currently being produced.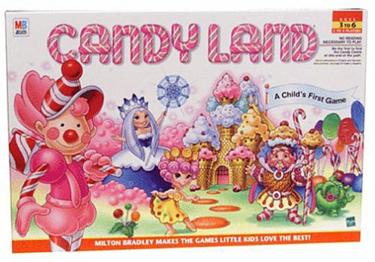 A simple and colorful game, it is notable for being one of the first board games that young children can play.
So that made it all the more sketchy when a company called Internet Entertainment Group launched a softcore porn website in 1996 called candyland.com.

In the early days of the mainstream use of the internet (basically the mid-1990s), the law was pretty vague on the rights of corporations with regards to domain names of websites.
Hasbro filed suit against Internet Entertainment Group, but, again, with the laws unclear over whether Hasbro could specifically sue for the domain name itself, Hasbro instead sued under the theory that the candyland.com website was "tarnishing" Hasbro's Candyland trademark by using the name candyland in fashion that would confuse users into thinking Hasbro was sponsoring pornography and would therefore dilute the power of Hasbro's trademark (trademark dilution is a relatively recent aspect of intellectual property law, which is the idea that two products can have nothing in common with each other and still confuse consumers. In the early days of trademark law, products would have to be similar for a trademark to apply, this is why a number of notable marks are used for multiple products, because this legal concept wasn't in force years ago, hence Peter Pan buses, Peter Pan peanut butter, etc. Nowadays, though, if a mark is well known enough, it can argue that other notable uses of the mark can still confuse consumers, like perhaps making consumers believe that Candyland is now involved with porn).
Since it was pretty obvious that IEG WAS intending for an association with the popular game, Hasbro had a strong case, and when they went to trial, they won. Internet Entertainment Group had to give up the site and the rights to the domain name.
Nowadays, candyland.com takes you to Hasbro's website and the proper (and non-salacious) "land of sweets".
This would not be the end of IEG's lawsuits, as one of the most notable porn website providers out there, they have had their fair share of legal entanglements over the years.
The legend is…
STATUS: True
Feel free (heck, I implore you!) to write in with your suggestions for future urban legends columns! My e-mail address is bcronin@legendsrevealed.com