Here is the latest in a series of examinations into urban legends about TV and whether they are true or false. Click here to view an archive of the TV urban legends featured so far.
TV URBAN LEGEND: Paul McCartney had a hidden message in an episode of The Simpsons.
As we have noted a few times over the years, when it comes to guest stars, sometimes the producers of The Simpsons have trouble with the celebrities that they have on the show. Whether it is a problem with their dialogue (like Justin Timberlake), problems with the script (like Johnny Carson) or just general weirdness (like Michael Jackson), working with celebrities was often a pain for The Simpsons production staff. Legendary musician Paul McCartney, however, made only one notable demand when he appeared on the Season 7 episode "Lisa the Vegetarian" in 1995. The episode dealt with Lisa Simpson, the Simpsons' eldest daughter, deciding to become a vegetarian.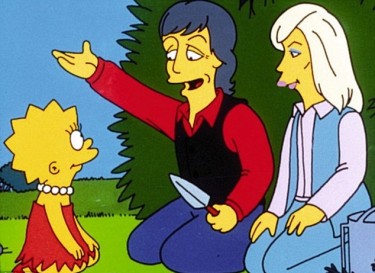 McCartney was (and still is) famous for being a vegetarian, hence the producers asking if he would guest star in the episode. His one condition was that they would not have Lisa's vegetarianism be a one-off gag. They agreed, and Lisa has been a vegetarian ever since. Besides that small request, McCartney was game for pretty much anything that the show's writers came up with, including a very amusing Simpsons-style twist on the all of the rumors of hidden messages in Beatles songs. Read on to learn what message McCartney and the show's writers hid in the episode!

McCartney was actually the last living member of the Beatles to appear on The Simpsons, as Ringo Starr was the central figure of 1991's "Brush With Greatness" and George Harrison (who later passed away in 2001) made a hilarious appearance in 1993's "Homer's Barbershop Quartet." McCartney's then-wife Linda (who passed away in 1998) also guest-starred in the episode along with McCartney. She noted at the time that they loved the chance "to spread the vegetarian word to a wider audience."
One of the most famous myths that followed the Beatles around during the 1960s was that Paul McCartney died and was replaced by a look-alike. People found "proof" all over the place, from the cover of 1969's Abbey Road (he is not wearing shoes and he is walking out of step)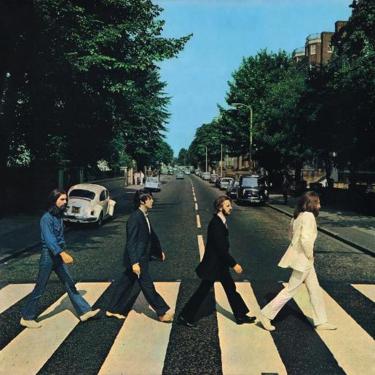 to the "fact" that if you played "Revolution #9″ on 1968's The White Album backwards, you would hear a clue to Paul being dead (the claim is that you could hear the phrase, "turn me on, dead man," which, of course, simply HAD to mean that Paul was dead).
So in the episode, McCartney makes fun of that myth by telling Lisa, "Linda and I both feel strongly about animal rights. In fact, if you play 'Maybe I'm Amazed' backwards, you'll hear a recipe for a really ripping lentil soup."
"Maybe I'm Amazed" was a love song McCartney wrote for Linda that appeared on his 1970 solo album, McCartney.
But amusingly enough, over the closing credits, that's exactly what happened! The show had McCartney record the recipe and then they placed the reversed recipe into a recording of "Maybe I'm Amazed."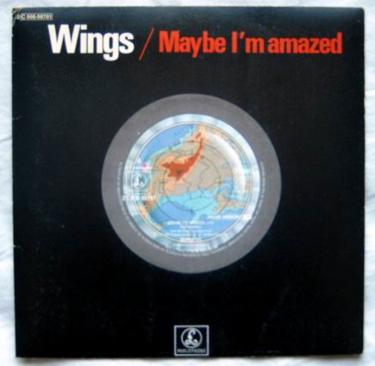 Here is the recipe:
– one medium onion, chopped
– two tablespoons of vegetable oil
– one clove of garlic, crushed
– one cup of carrots, chopped
– two sticks of celery, chopped
– half a cup of lentils
– one bay leaf
– one tablespoon of freshly-chopped parsely
– salt and freshly-ground pepper to taste
– two and a quarter cups of vegetable stock or water
In one last gag, there is a final hidden message by McCartney after the recipe where he says, "Oh, and by the way, I'm alive."
Hilarious!
The legend is…
STATUS: True
Feel free (heck, I implore you!) to write in with your suggestions for future installments! My e-mail address is bcronin@legendsrevealed.com.