Here is the latest in a series of examinations into urban legends about movies and whether they are true or false. Click here to view an archive of the Movie urban legends featured so far.
MOVIE URBAN LEGEND: Robin Williams' character in Dead Poets Society originally died at the end of the film.
When Robin Williams tragically died last year, tributes to the actor and comedian poured in from throughout the internet. One common method of fans paying tribute to Williams was through a reference to his acclaimed performance (he was nominated for the Academy Award for Best Lead Actor) in the 1989 film, Dead Poets Society (spoilers ahead for a 26-year-old film!). At the end of the film, about an inspirational English teacher named John Keating at a conservative prep boarding school in the late 1950s, Keating's students protest his firing by standing on their desks and reciting "O Captain! My Captain!," which is the first line of the famous 1865 Walt Whitman poem written in response to the assassination of Abraham Lincoln.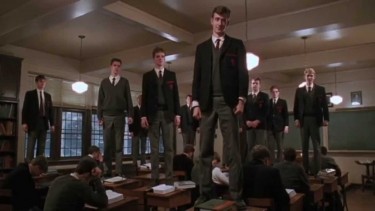 Fans of Williams shared photos of themselves on social media standing on desks along with the hashtags #MyCaptain and #OCaptainMyCaptain, making those two hashtags trend nationally on Twitter. Talk show host Jimmy Fallon even stood on his desk on The Tonight Show, as well, in tribute to Williams.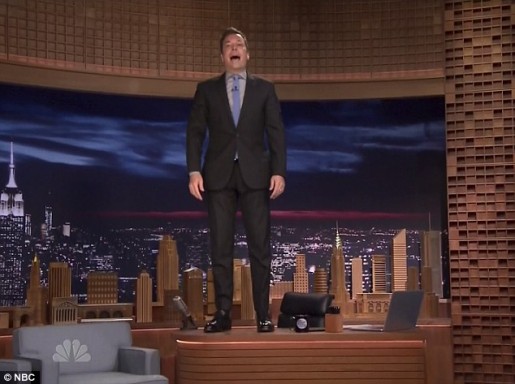 It was a very sweet and touching way for fans to pay tribute to their fallen hero, but amazingly enough, if the original version of Dead Poets Society had come about, it would have been a particularly on point tribute, as originally Keating was set to die at the end of the film!

Dead Poets Society was an original screenplay by writer Tom Schulman. It was the first one of Schulman's screenplays to be made into a motion picture. It ultimately won Schulman an Academy Award for Best Original Screenplay. Schulman based the movie partially upon three different men. Perhaps the most notable of the three was Jim Pickering, a professor that Schulman had at Montgomery Bell Academy in the 1960s (a year before Pickering went to graduate school). Pickering often describes himself as being far less focused than Williams's Keating was in the film, as Keating's seemingly unfocused teaching style was designed to break his students free from their conformity – Pickering has noted that his teaching style was not nearly as sensible. He told the New York Times in 1992, "If I thought that I really influenced the lives of students, I might stop teaching. I am not a big enough person for such responsibility." Schulman was also influenced by a lecture by Broadway director Harold Clurman. Finally, Schulman saw a lot of Keating in his own father, who was a poetry lover. He recalled in the Jurgen Wolff/Kerry Cox book Top Secrets: Screenwriting that his father was "always quoting poetry to me, little kernels of wisdom." That certainly sounds like Keating's famous line to his students, "Carpe diem. Seize the day, boys. Make your lives extraordinary."
In Schulman's original vision of the screenplay, the film was slightly more centered on the Keating character than the final film, which was more about the lives of the students than Keating. In the film, the climax of the narrative is when one of the students, the aspiring actor Neil (Robert Sean Leonard), kills himself after his father moves to pull him from school to send him to a military academy to prevent him from pursuing his dream of being an actor. The school decides to blame Neil's suicide on Keating and the unauthorized poetry club that Neil was a member of, the "Dead Poets Society" that gives the film its name. The students go along with the railroading of Keating to prevent themselves from being expelled for their participation in the unapproved club, even Todd (played by Ethan Hawke), who was very close to Keating. After Keating's dismissal, though, Todd and his friends protest his dismissal by their stunt sitting on the chairs (which was itself a reference to when Keating would stand on his own desk when teaching the students), despite being threatened with expulsion over their protest.
Originally, though, the climax of the film was when Keating succumbs to leukemia, which he would have been suffering with throughout the film. So the film would have been more about Keating's struggles with the disease than anything. The director of the film, Peter Weir, argued with Schulman that this was an unnecessary element in the script. As Weir told him (and as Schulman then related in Top Secrets: Screenwriting), "a dying general leading his men into battle isn't a very courageous man – after all, he has nothing to lose." In other words, if Keating knows that he is dying, it takes away from his willingness to challenge the establishment in how he teaches his kids. It reduces the stakes in a very real way.
Schulman agreed with Weir, and so it was changed from Keating's death inspiring his students to Neil's death driving them to rebel after Keating takes the fall for Neil's suicide. The end result made Keating a braver rebel and also gave the students a more powerful reason to stand up for Keating. It is one thing to honor a dying teacher, it is a whole other thing to honor a teacher who you already let take the fall for the death of one of your fellow students. In addition, it takes the "O Captain! My Captain!" line from being a bit too on point in the script.
The legend is…
STATUS: True
Feel free (heck, I implore you!) to write in with your suggestions for future installments! My e-mail address is bcronin@legendsrevealed.com.