Here is the latest in a series of examinations into urban legends about music and whether they are true or false. Click here to view an archive of the movie urban legends featured so far.
MUSIC URBAN LEGEND: "Sledgehammer" by Peter Gabriel was about sex.
"Sledgehammer" became Peter Gabriel's first (and only) #1 hit song on the Billboard Pop Charts in 1986 (amusingly enough, it unseated "Invisible Touch," the first (and only) #1 hit by his old band, Genesis). The song is famous for its groundbreaking music video by director Stephen R. Johnson that undoubtedly helped the song become such a major hit…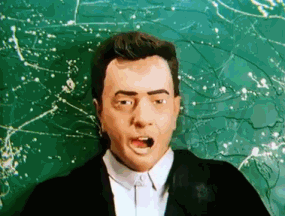 Anyhow, reader Chris F. wrote in to ask about a legend he had heard (he had a few others he was wondering about that I'll probably get to in the future), that
"Sledgehammer" is about a man trying to seduce a woman – the sledgehammer is male genitalia
Is that true?

Pretty much, yes.
I did a legend a while back about how the band Lovin' Spoonful got their name from a blues song and how the original usage of the term was almost certainly sexual in nature, and that was a very common thing for blues and soul in general, lots and lots of sexual references.
That was what Peter Gabriel had in mind with "Sledgehammer." Speaking about the song, he noted that the song:
is an attempt to recreate some of the spirit and style of the music that most excited me as a teenager – Sixties soul. The lyrics of many of these songs were full of playful, sexual innuendo and this is my contribution to that songwriting tradition. Part of what I was trying to say was that sometimes sex can break through barriers when other forms of communication are not working too well
So yes, in this context, a lot of the references in the lyrics clearly are intended to be references to male genitalia, just check them out…
all you do is call me
I'll be anything you need

you could have a big dipper
going up and down, all around the bends
you could have a bumper car, bumping
this amusement never ends

I want to be your sledgehammer
why don't you call my name
oh let me be your sledgehammer
this will be my testimony
show me round your fruitcage
'cos I will be your honey bee
open up your fruitcage
where the fruit is as sweet as can be
If fruitcage is not specifically a slang term for female genitalia (and I've seen at least one slang dictionary that says that it is), then it is still clearly used as such in the song.
The legend is…
STATUS: True
Thanks for the suggestion, Chris!
Everyone else, feel free (heck, I implore you!) to write in with your suggestions for future urban legends columns! My e-mail address is bcronin@legendsrevealed.com