Here is the latest in a series of examinations into urban legends about movies and whether they are true or false. Click here to view an archive of the Movie urban legends featured so far.
MOVIE URBAN LEGEND: An earlier version of "Beauty and the Beast" was scrapped due to Belle not being enough of a feminist heroine.
A peculiar challenge exists when you are writing a film for a large corporation such as Walt Disney Studios is that there are so many executives to answer to on each movie that it is difficult to maintain a cohesive voice for any given film. Therefore, it is unsurprising to note that a number of Disney films have undergone rather dramatic makeovers from their original screenplays. For instance, as we noted in a Movie Legend Revealed from a while back, Elsa in Frozen was originally the villain of that film.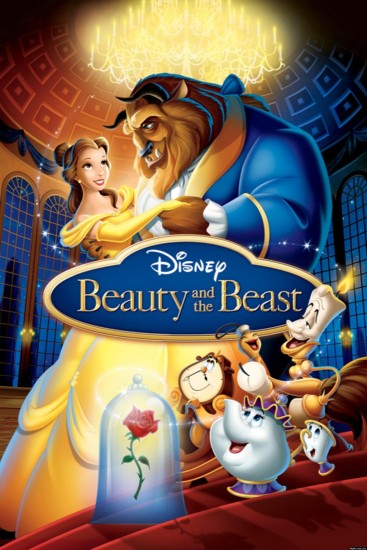 The 1991 Disney classic, "Beauty and the Beast," however, underwent a more dramatic transformation than most, as the original version of the film was completely scrapped well into the filmmaking process, leading to a completely new film having to be created in less than the normally allotted production time of a Disney animated film. Amazingly enough (in a good way), one of the key areas of contention with the original version of the film was that the heroine of the film wasn't enough of a feminist!
Read on to see how it all went down!

Walt Disney had been trying to adapt "Beauty and the Beast" into a film going way back to the earliest days of Walt Disney full-length animated features, like "Snow White and the Seven Dwarfs." It seems that the 1946 film adaptation by Jean Cocteau dulled Disney's enthusiasm for the project at the time and it fell to the wayside for decades. When Disney Studios began to ramp up their production of new feature films in the late 1980s, however, "Beauty and the Beast" was back on the table. Screenwriter Jim Cox first took a crack at the film in 1988, but Disney Studios Chairman Jeffrey Katzenberg turned it down, noting that, while good, it was too close to the original fairy tale. After an attempt to land the director of the animated parts of "Who Framed Roger Rabbit?," Richard Williams, Disney settled on a colleague of Williams', Richard Purdum.
Purdum and a group of animators got together and worked up the basic idea of the film. However, while working on the film, Disney was also in the midst of releasing "The Little Mermaid," which was a smash success. One area, though, where the film was criticized was with regards to the lead heroine, Ariel, who was seen by some as not having a whole lot of agency of her own throughout the film (she is manipulated by either her father, King Triton, or the evil witch Ursula for much of the movie and her prince, Eric, has a more dynamic role in the film). Whether fair or not (the eventual screenwriter for "Beauty and the Beast," Linda Woolverton, argued that the criticism of Ariel was unfair, as "Ariel was willing to give up her watery heritage and plunge into the unknown. There was actually a lot of pluck in her"), the critique rang in Katzenberg's head when it came time to see what Purdum had come up with. He did not like what he saw and had the whole film scrapped and started over. Purdum quit.
Linda Woolverton had been working as one of the writers on the film's screenplay for a couple of years by this point and now found herself the main screenwriter for the revamped movie (along with the new directors of the film, Kirk Wise and Gary Trousdale). Disney senior vice president of feature animation, Peter Schneider, described their revamp of Belle, "Belle is an independent heroine who wanted more than just a hunky guy (Gaston). It was an attempt to make her more than a traditional fairy-tale heroine."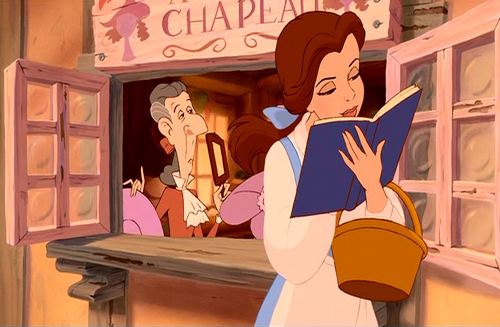 Wade Sampson interview Woolverton in 1992 and she spoke of what they were expecting from her:
They [Disney] knew I had a feminist sensibility and they were at ease that the same accusations leveled against Mermaid (like Ariel forsaking her family and heritage for a man) wouldn't happen with Beauty and the Beast. I never took part in marches. I just knew I wanted to go out, very much like Belle, and do things myself. I thought I was smart enough to be able to do that.
The scrapped version did not have the Enchanted Objects of Beast's castle speaking. It also had a younger sister and an aunt for Belle who pushed her to marry Gaston, who was a weaselly, sort of wimpy character at first.
It was lyricist Howard Ashman who first came up with the idea for the Enchanted Objects to talk. One of Katzenberg's other problems with the original screenplay was that it was too dark, so Ashman felt that having the Enchanted Objects talk would lighten things up a bit.
Choosing not to watch the Cockteau adaptation of the film (so as to not be too influenced by him), Woolverton instead turned to Katharine Hepburn's portrayal of Jo March in "Little Women" as an inspiration for Belle. Annoyingly, Woolverton had a hard time convincing the animators to depict her new version of Belle. She explained to the Los Angeles Times one frustrating incident:
In one scene, the screenplay had Belle pushing pins into a map of the world–places she wanted to visit–while waiting for her father to return. When Woolverton saw the segment on the storyboard, however, she found her heroine decorating a cake. In the end, Belle was shown reading a book–which also had provoked some discussion. Because reading might be deemed a passive hobby, the opening scene has her walking and reading at once–which Woolverton herself used to do as a child.
Other changes helped the film, like introducing a time limit for the Beast to find love (thus adding some drama to the story) and turning Gaston into a more formidable adversary.
The end result was not only a blockbuster hit, but "Beauty and the Beast" was the first Disney film to be nominated for a Best Screenplay Academy Award!
The legend is…
STATUS: True
Feel free (heck, I implore you!) to write in with your suggestions for future installments! My e-mail address is bcronin@legendsrevealed.com.