Here is the latest in a series of examinations into urban legends about toys and whether they are true or false. Click here for an archive of all toy urban legends featured so far!
TOY URBAN LEGEND: Mattel initially produced a friend of Barbie's called "Wheelchair Becky."
Mattel certainly is no stranger to awkward moments over the decades that they've produced Barbie dolls. After all, they've done so many versions of the doll that they are almost bound to screw up now and again. I've even covered one of these instances in the past, when Sleepover Barbie came with a diet book that advised girls simply "don't eat."
This brings us to the case of Barbie's friend, Becky, who is in a wheelchair.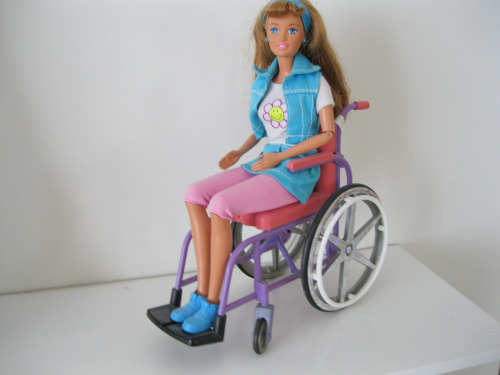 The website "Climbing Every Mountain" (but really, this information has popped up a number of places") discussed the doll…
In 1997, Mattel ignored even the basic "People First" language with Wheelchair Becky. When a little girl with cerebral palsy complained, they renamed the doll Share-a-Smile Becky. Most advocates would say, "Becky" would have been enough.
Is that true?

No, it is not.
The toy was always introduced as "Share-a-Smile Becky."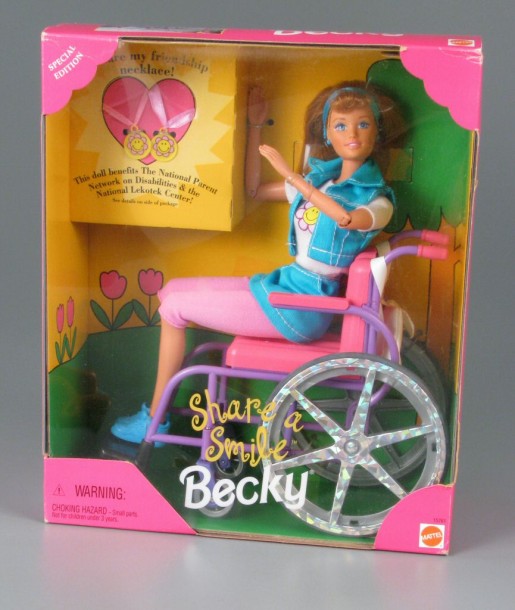 Here's a feature by the wire services when the doll debuted:
Barbie's newest friend comes with her own special smile. Her own fashions. And her own pink wheelchair.

That's because "Share a Smile" Becky is the Barbie doll's first friend with a disability.

On Wednesday, toymaker Mattel Inc. and the Toys "R" Us store chain unveiled Becky, the first fashion doll that comes in a wheelchair.

Nancy Zwiers, a Mattel senior vice president in charge of Barbie marketing, said Barbie's latest friend was added to the Barbie doll world to reflect "real world" diversity and foster an appreciation of differences.

"Becky portrays positive images," added John Kemp, president and chief executive of the Very Special Arts, which promotes arts education for children with disabilities. "She dispels stereotypes and shows that people with disabilities can be fun, beautiful and playful."

Indeed, Becky's bright pink wheelchair has purple shiny Mylar around the wheels and a white backpack that fits on the back of the wheelchair. Becky sports a turquoise skirt and vest set with matching shoes, pink capri pants and a necklace that is a bracelet for her playmate. A reply card is included to join WOW (Winners on Wheels), a boys and girls club for children who use wheelchairs.

"We think the doll has broad appeal," Zwiers said.
What actually happened was that Kjersti Johnson, a 17-year-old high school student with cerebral palsy, noted that Becky's wheelchair wasn't really accessible with Barbie's Dream House (like it didn't fit into the elevator, for instance).
It is possible that Mattel did reconfigure the initial version of Share-a-Smile Becky (her hair might have been too long, which would be an issue with her wheelchair wheels), but it was always called Share-a-Smile Becky.
The character has come back a few times over the years, but mostly she has been a limited print run type toy.
The legend is…
STATUS: False
Feel free (heck, I implore you!) to write in with your suggestions for future installments! My e-mail address is bcronin@legendsrevealed.com.