Here is the latest in a series of examinations into urban legends about TV and whether they are true or false. Click here to view an archive of the TV urban legends featured so far.
TV URBAN LEGEND: A major Big Bang Theory plot twist wasn't originally planned for the episode in which it was revealed.
One of the things that writers and producers of television series have to always keep in mind is that they have to be willing and able to adjust plans at the last moment depending on all sorts of unforeseen situations. Like Ally McBeal having to write Robert Downey Jr. out of his own wedding episode or Alias Smith and Jones having to come up with a way to keep the show going even after one of their two leads killed himself. Those are outside influences, though. Sometimes, shows also have to adjust when the show's writers suddenly go off in a wild and different direction than originally intended. That was the case for the hit sitcom The Big Bang Theory last season, when they revealed a major plot twist for the show – a twist that they didn't even have in mind when they began to write the episode it was revealed in!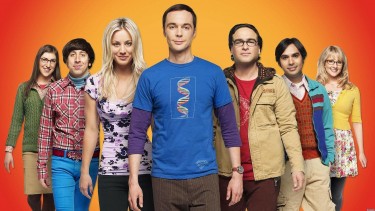 Read on to learn how it all went down (Big Bang Theory spoilers ahead!)!

In this year's Valentine's Day-themed episode, "The Valentino Submergence," married couple Howard (Simon Helberg) and Bernadette (Melissa Rauch) plan on having a romantic night in their hot tub. When they open it up, though, they see a rabbit has gotten into the tub and is floating in it. As it turns out, the rabbit was not actually dead yet and they nurse the rabbit back to health, but then it bites Howard. He leaves to go to the Emergency Room to get a rabies shot and while Bernadette is left with the rabbit, she tells the rabbit, "We'll find another time to tell him I'm pregnant." It was a shocking revelation, especially as Bernadette had previously expressed no desire to have children any time soon.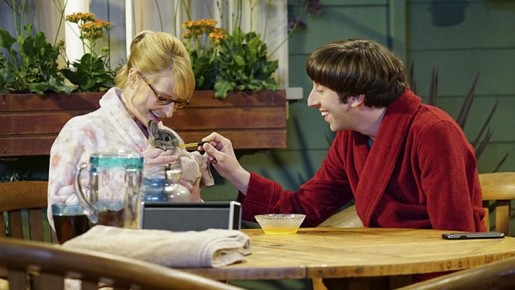 And as it turns out, the episode was completely planned out and outlined withOUT the dramatic revelation! It was the night before the episode was to be taped that things changed. The showrunner of the sitcom, Steve Molaro, explained the situation to the Hollywood Reporter:
We've touched on the idea of Bernadette and Howard and children here and there but we didn't really have plans to pull the trigger at any point. It wasn't even part of the outline for the episode. We were writing it and getting toward the end of the story and I guess maternity was in the air because Bernadette was holding this wrapped-up bunny and they named it, and we were writing the final page of that storyline. Half-kidding, I said, "What if Bernadette tells the rabbit, 'We'll find another time to tell him I'm pregnant.' " The room had such a strong, positive reaction to it. We thought it seemed like an organic moment and we decided to put it in. Because there was no plan for it, it felt very exciting to us when we did it; like it was a thing that should happen and maybe this was the time to do it. "
He explained to Entertainment Tonight that he then handed show creator Chuck Lorre the script right before the episode was about to be filmed:
"I handed the script over to Chuck the next morning and I said to him, 'I tried a couple things. See what you think,'" Molaro explained. "He had no idea and he came back later with the script and he goes: 'So, Bernadette is pregnant? Sure, why not? Go do it!' and he walked out and that was that."
The news came as a big surprise to the rest of the cast, as well. Some took it better than others, as Entertainment TOnight learned when they spoke to one of the show's biggest stars, Kaley Cuoco:
When we asked Kaley Cuoco if she's excited to be working with some potential twins on the Big Bang set, the blonde beauty was completely unfiltered with her response: "No, I'm not," she said bluntly. "Maybe [Bernadette] can be pregnant for, like, three seasons so we can wait a couple of years, but we'll see," she said.

"No dogs and no babies — that's my rule," Cuoco added. "At home, yeah, but not on set. Not at work."
You have to at least somewhat admire the adventurous nature of the show's writing. This sense of last minute additions to the script was also the origin of how the word "Bazinga" was added to the Big Bang Theory lexicon, but adding a word to a script and adding a whole pregnancy are two majorly different things!
The legend is…
STATUS: True
Thanks to Leanne Aguilera of ET and Lesley Goldberg of the Hollywood Reporter for the information! And, of course, Steve Molaro and Kaley Cuoco.
Be sure to check out my archive of TV Legends Revealed for more urban legends about the world of television. And click here for more legends just about the Big Bang Theory!
Feel free (heck, I implore you!) to write in with your suggestions for future installments! My e-mail address is bcronin@legendsrevealed.com.