Here is the latest in a series of examinations into urban legends about music and whether they are true or false. Click here to view an archive of the music urban legends featured so far.
MUSIC LEGEND: The lyric in Electric Light Orchestra's "Don't Bring Me Down" that sounds like "Bruce" is just a nonsense word.
In terms of misheard lyrics, one of the most famous ones is the 1979 hit single by Electric Light Orchestra (ELO), "Don't Bring Me Down," the highest-charting single in the history of the Jeff Lynne-led group (it peaked at #4 on the United States Billboard charts).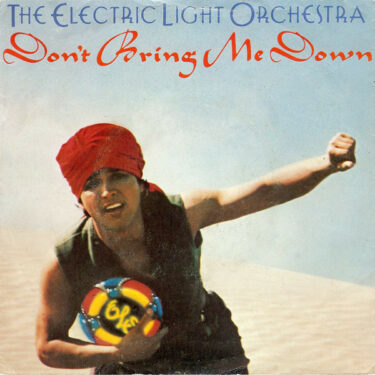 The song has the lyrics:
You wanna stay out with your fancy friends
I'm tellin' you, it's got to be the end
Don't bring me down
No, no, no, no, no
Ooh-ooh-hoo
I'll tell you once more before I get off the floor
Don't bring me down
and then the chorus:
Don't bring me down, groos
Don't bring me down, groos
Don't bring me down, groos
Don't bring me down
Obviously, over the years, fans have said, "Bruce" instead of "Groos," to the point where Jeff Lynne finally gave up and now he sings "Bruce" when he performs the song live. So, what's the deal with that line? What is "groos"?

There are two versions of the story. Jeff Lynne wrote the music for the song first, so the lyrics were added after the fact and he said that "groos" was just a nonsense word that he included as a placeholder while thinking of a new lyric. This is a common story in music legends. I've done a few of them over the year, like "Na Na Hey Hey Kiss Him Goodbye", where the nonsense lyric was a placeholder that ultimately was just kept in the song. Here, Lynne pointed out in his VHI Storyteller performance in 2001 (he's told this story a number of times over the years), "The engineer was German and he said, 'How did you know that word?' And I said: 'What word?' And he said, 'Gruss. It means "greetings" in German.' I said, 'That's good. I'll leave it in.'"
That engineer, though, Reinhold Mack, has a different version of the story, claiming:
"Gradually, Jeff started getting into it, and, as there was a plan for ELO to start a concert tour in Australia, the song was originally titled 'Don't Bring Me Down, Bruce'. This was meant to be a joke, referring to how many Australian guys are called Bruce, but we couldn't leave it like that, so eventually we replaced it with 'Gruss', based on the Bavarian greeting Grüß Gott — 'greet God'. Gruss, not Bruce, is what you hear in the song immediately following the title line. A bit like Freddie Mercury joking around at the end of Queen's [1985 single] 'One Vision', singing 'fried chicken'.
ELO did NOT have an Australian tour planned (they toured Australia in 1975 and 1978, but never after that). So that already makes Mack's story a bit fishy, but there's also the case where, if you're joking around by saying the name "Bruce," why would you replace it with a German greeting? That doesn't make any sense. However, since using either "Groos" OR the German greeting DOESN'T make sense there, that actually fits perfectly with it instead being a nonsense word (as if it was always a nonsense word, it never HAD to make sense, since it was always a nonsense word). And that is what Lynne says it was and, again, nonsense placeholder words that end up in the song happen all of the time, so that makes me think that Lynne's version is the correct one.
So I'm going with the legend as…
STATUS: True
Feel free (heck, I implore you!) to write in with your suggestions for future urban legends columns! My e-mail address is bcronin@legendsrevealed.com