This is the latest in a series of examinations of legends related to boxing and whether they are true or false.
BOXING URBAN LEGEND: Jack Dempsey's gloves were "loaded" when he first won the world heavyweight championship.
On the Fourth of July, 1919, 24-year-old William Harrison "Jack" Dempsey defeated Jess Willard and won the world heavyweight championship title. Dempsey would hold the title for the next seven years before losing it to Gene Tunney in September of 1926. Dempsey was an underdog going into the match against the champ, as the 37-year-old Willard had five inches and a good fifty pounds on Dempsey. The match clearly was not a "David versus Goliath" set-up (while an underdog, most papers gave Dempsey decent odds – the New York Times reported betting was 5-4 against Dempsey), but some members of the press still sold it as such. Therefore, there was a great deal of surprise when Dempsey not only defeated Willard, but he brutalized him, winning in three rounds as Willard's corner could not let the champ come out for the fourth round.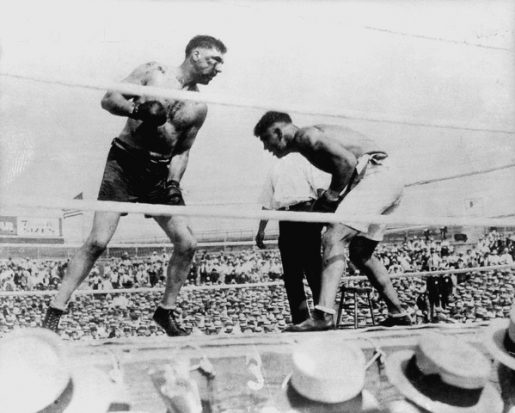 Dempsey knocked him down seven times in the first round and after the match, the story was that Willard lost six teeth and suffered a broken jaw, as well as other fractures in his facial bones (plus some broken ribs).
Confusion over how Dempsey could cause all of those injuries soon turned to suspicion that Dempsey was cheating, using some sort of "loaded" glove, that is to say a glove that was treated with a hardening substance or, in the alternative, hiding a heavy object (like a tire iron) in his glove, to increase the force of his blows. When Dempsey's then-manager John "Doc" Kearns confessed that the gloves were loaded in a Sports Illustrated excerpt of Kearns' biography in 1964 (it was published posthumously, as Kearns died in 1963), the suspicions from 1919 became a hot topic and have remained a contested subject ever since. So, did Dempsey use loaded gloves to win the title?
Read on to find out!
Tags: Doc Kearns, Jack Dempsey, Jess Willard
October 7th, 2016 | Posted in
Boxing Legends
|
No Comments