Here is the latest in a series of examinations into urban legends about TV and whether they are true or false. Click here to view an archive of the TV urban legends featured so far.
TV URBAN LEGEND: One of the original cast members of Grey's Anatomy was added to the show's pilot through digital effects.
As the years go by, the technology behind film and the television gets better and better, especially the world of digital effects. Shows like Supergirl and the Flash have action scenes that couldn't even be imagined twenty years ago, let alone in the days of The Adventures of Superman re-using the same flying sequences over and over. One of the big advances in CGI is the ability to add actors to scenes digitally. This was famously used in Gladiator to allow Oliver Reed to appear in the film even after the actor had died during filming. Amusingly enough, similar technology would be used five years later with the pilot of the long-running hit drama series, Grey's Anatomy, to add an actor to the episode who was not originally in the episode when it was first filmed!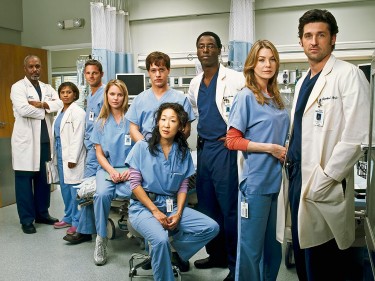 Read on to learn who was a late addition to the series.

Grey's Anatomy, at the start, was about a group of surgical interns at a teaching hospital, as well as other surgeons at the hospital (and, of course, lots and lots of romance between all the various cast members). The show centers around Meredith Grey (Ellen Pompeo), one of the interns whose mother was a famous surgeon and is now suffering from Alzheimer's. Meredith sleeps with a stranger at a bar and is mortified to find out on her first day of work that the man she slept with is a renowned surgeon at Seattle Grace (Patrick Dempsey's Derek Shepherd, or "Doctor McDreamy"). Meredith's closest friends are Christina (Sandra Oh), Izzy (Katherine Heigl) and George (T.R. Knight).
The pilot, written by the show's creator, Shonda Rhimes, was filmed in March of 2004 and was purchased by ABC but the show did not make it on to ABC's Fall Schedule. It was held on to as a midseason replacement, airing in March 2005 (where it instantly became a massive success). With all the time between the show's original filming and its airing, it gave Rhimes a lot of time to tinker with the show. One thing that she added was voiceover narration by Meredith Grey.
Another thing Rhimes ended up adding was another intern. Meredith was quickly so friendly with Christina, Izzy and George that Rhimes felt that there needed to be a different element for the show's interns. Enter Justin Chambers, who told TV Guide about the situation:
"They had shot the pilot a year before it aired. They felt they needed to tinker with it a little more. I had done a pilot for ABC, [Secret Service], that didn't get picked up. They liked what I did in that, and they brought me in to do a screen test with Ellen. I guess they felt they needed a jerk, so they brought in this jerk. It worked out."
Adding major characters to a series after a pilot is extremely common in television. Kookie, the breakout character of 77 Sunset Strip, didn't appear until the second episode (under bizarre circumstances). Same thing with Elaine Benes on Seinfeld. However, here, the technology was available to actually digitally insert Justin Chamber's Alex Karev into the pilot.
There's a sequence where George is assisting Isiah Washington's Preston Burke in a surgery. All the other interns gather to watch George (while sort of rooting for him to fail to help their own advancement). In a wide shot of the scene, you can see them all in the room.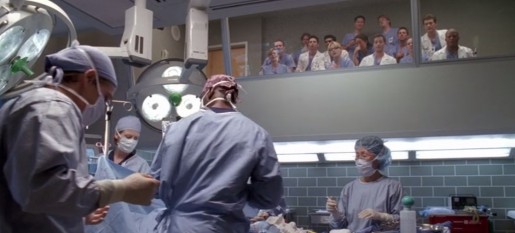 However, in close-ups of the room, Chambers is digitally added to the group.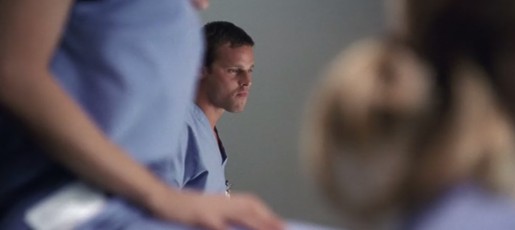 There's a brilliant piece of editing here, as well. Originally, after George screws up, there is murmuring in the group that George is "007," which, as Meredith explains to Izzy, means that he has a "license to kill," meaning that he is a bad surgeon. However, in the aired episode, Chambers' character, Karev, is spliced into the scene right before the murmuring and he says "007," which makes it seem like the murmuring was a response to him saying it, when actually it was already being said. It nicely establishes that Karev is a jerk.
The show didn't only use CGI, though, they also filmed a brand new scene between Karev and Meredith that is added to the episode.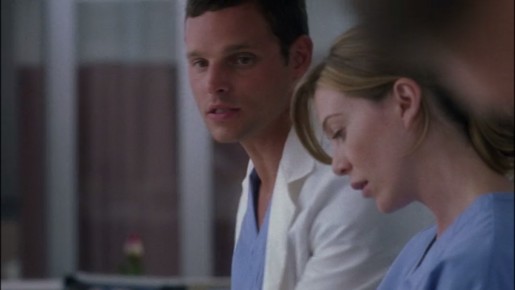 But for the most part, Karev is barely in the episode. In the second episode, he is fully added to the series.
The legend is…
STATUS: True
Be sure to check out my archive of TV Legends Revealed for more urban legends about the world of television.
Feel free (heck, I implore you!) to write in with your suggestions for future installments! My e-mail address is bcronin@legendsrevealed.com.